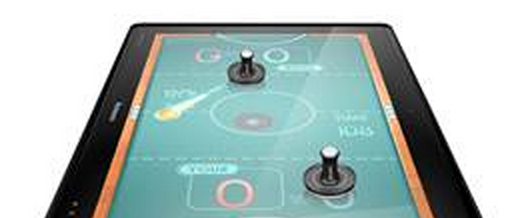 Lenovo IdeaCentre Horizon table PC "comin' soon"
A few months back your ever-vigilant Gear Diary team let you know about a coming Lenovo "tabletop" PC that they unveiled at CES. (In retrospect, I'm absolutely stunned that I didn't make some kind of mention about how they had been using a similar device in my favorite and now cancelled [Damn you, blah!] TV show, "Leverage".  I guess I don't digress as often as I think I do.)  The idea is that it's more of a family device, like a coffee table for example; something that you can get several people to gather around and use. The device is  Lenovo's 27-inch IdeaCentre Horizon Table PC—an all-in-one desktop PC that lays "coffee table" flat.  It's going to be on display  at New York City's Jacob K. Javits Convention Center on May 18-21 for the   International Contemporary Furniture Fair (ICFF), so if you're in NYC that week, you can get an up-close and person look at the thing.
So if you've been wondering about this product, Lenovo wants you to know that it is going to be hitting the shelves (and virtual shelves online, of course) in June, and wanted you to keep an eye out for it.  After all, June is only a month and a half away, and at an MSRP starting at $1699–not much different from your Macbook–it sounds pretty affordable.  So check it out, let us know what you think, and if you end up getting one, be sure to tell us all about it below!