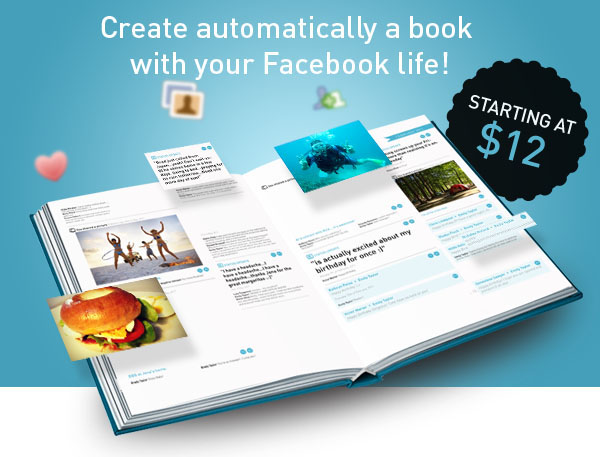 I'm not a big fan of Facebook, honestly.  I'm glad to be able to hook up (in the non-sexual sense) with old friends from high school and college that I've lost track of over the years, catch up on what my b'zillion cousins are doing (that would be the Catholic side of the family, mostly), and have a lifeline to old co-workers that doesn't filter through LinkedIn.  But that's about it, honestly; Facebook's shaky security and apparent desire to get their hooks into everything I do online makes me profoundly nervous.  But it would be stoopid of me to deny that it's a Big Deal online, and that it's a nice place to burden people with my opinions and family photos.  And with the Likebook, you can actually turn your Facebook data into an actual, honest-to-God hardcopy book.
A Likebook is quite simply a hard copy book of the Facebook contents of a person, a group or a fan page.  And the idea is that it provides you with a nice present to give, say, Mom for Mother's day, with all the pictures of the kids and family.  The Likebook comes with a bunch of personalization options, several layout styles, and in hardback or soft-cover.
So if you've been thinking that it would be cool to zip up your and your kids' Facebook pages into a book and give them to Granny or some such, maybe this is the tool you've been needing.  Why don't you surf on over and check it out.  And if you do put one together, be sure to let us know what you think below!