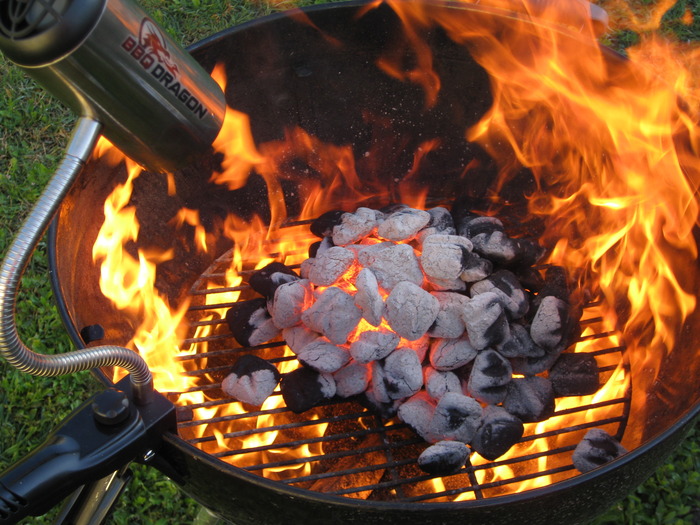 Though it is May here in Texas, the temperatures have (miraculously) yet to regularly pop up above 90 degrees.  But still:  it's May.  And in Texas in the Spring and Summer (and Fall, for that matter), that means a whole lotta folks cooking outdoors on their hand grills.  And unless you have a gas-powered grill — and believe me, plenty of folks here absolutely do — that means getting your grill started somehow.  Firing up the charcoal, oak, mesquite, or whatever, and getting them into that nice glowing-coal look that makes you your best top-quality Bar-B-Que food.  There are plenty of ways to do it, of course:  Self-lighting coals; bucket o' lighter fluid; those weird can things that my Santa Cruz friends swear by.  But it's always a problem.  And the folks with the new Kickstarter BBQ Dragon project have a way they think will work.
Project Title: BBQ Dragon – The Barbecue & Fire Supercharger!
Status: Active
Closing Date for Funding: 6/1/2013
URL of the Project: http://www.kickstarter.com/projects/1025864883/bbq-dragon-the-barbecue-and-fire-supercharger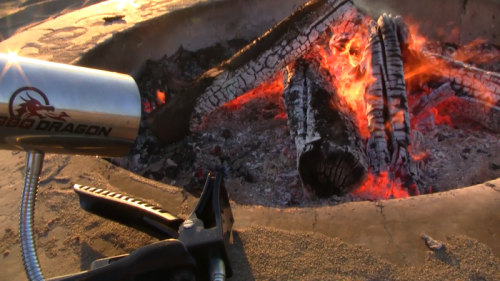 Product Overview: The BBQ Dragon is a fire-starting gizmo that gets your charcoal going faster than one of those tin-can chimney deals without using lighter fluid.  It controls the heat of grills (and smokers as well) and can be used to revive fires. It works by blowing large amounts of low-velocity, cool air at fires, giving them with the oxygen they need to burn hotter and faster. It's cordless, hands-free and portable so you can use it wherever is convenient:  tailgating, camping, the beach, wherever.
You use the BBQ Dragon anywhere you want to light a fire. You clip it to any type of charcoal grill, but you can also use it with Ceramic cookers like the Big Green Egg;  clip it on a leg of your ceramic smoker, aim it up the vent, and in minutes have that sucker hot enough to cook pizza.  Or so these folks say.