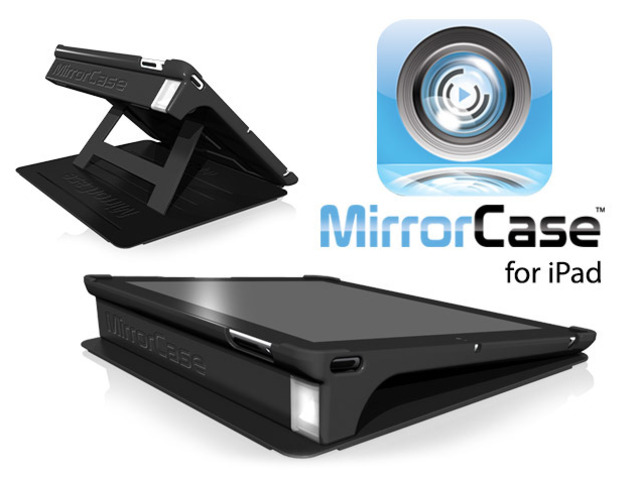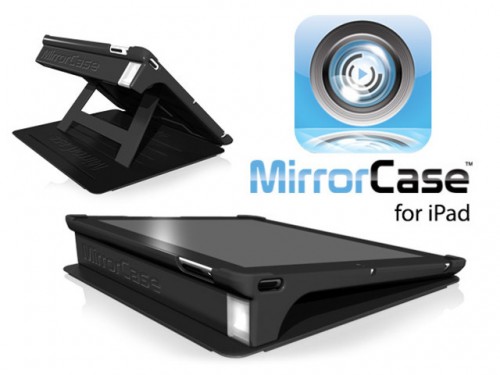 I have an iPad 1, and it does not have a camera.  I have never really minded this, because it always seemed weird to me to want to heft up this 9″ tablet and try to take a picture with it.  Heck, as a long-time shutterbug, I think it's weird to use a phone to take a picture, honestly; I'm old enough to be from the old tripod-lens kit-shutter-chemical film era, and using this juttery device doesn't seem like a good way to take shots.  But with an iPad?  Not only is the durn thing huge, but it also is hard to point.
Other folks have noticed this, of course, but they are smarter than me because they point out that in an era when people are using their tablet computers in meetings and such, it's sometimes a good idea to, say, take shots of what's on the white board, or the power-point slides being presented, or whatever.  Which is hard when you're taking notes on the device you want to take photos with, right?  So they are working on the MirrorCase, which acts as a case, stand, and points your camera in the right direction.
Project Title: MirrorCase for iPad
Status: Active
Closing Date for Funding: 5/30/2013
URL of the Project: http://www.kickstarter.com/projects/rhpmm/mirrorcase-for-ipad?ref=live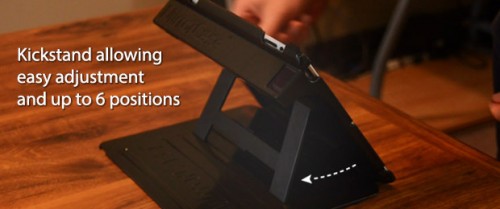 Product Overview: The MirrorCase for iPad is a multifunctional ergonomic case that gives you the ability to use the rear camera while the iPad is in a horizontal position. (MirrorCase is specifically designed for 2nd, 3rd and 4th generation iPads, so I'm out of luck with my iPad 1).  The case has a kickstand that allows you to adjust the height and angle for easier use, and the mirror gizmo itself also lets you adjust the angle so that you can point it where you need to.  It has a thumb wheel to tilt the mirror, and is made of Gorilla Glass.