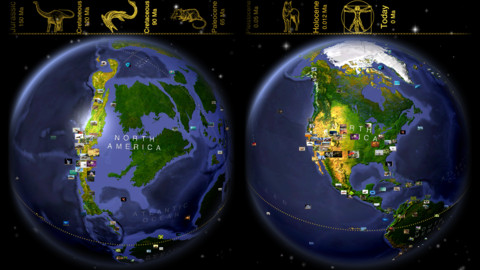 Unless you're an "intelligent design" person, you're in the group of folks that is under the impression that the Earth is old.  Really old.  Really, really old; old enough that things we like to think of as completely stable–like the friggin' continents on which we live — have had time to slide around like pucks on an air hockey table.  Now yeah, the sliding has taken place over the course of hundreds of millions of years; a time cycle that is almost inconceivable.  (Sorry; I've been watching "The Princess Bride".)  So it's not as if you could fly up in a spaceship and do some kind of time-lapse photography of the planet in order to watch the continents moving or anything.  But hey, nowadays we have computers to model that sort of thing, and the new Dino Walk iOS app can display exactly that!
The app is a visualization of a billion-year-long change that takes less than a minute. It can show you what creatures inhabited the planet in which time periods, and give you some details about them.  The app comes with an interactive globe, a time machine that can travel to the Proterozoic, Jurassic, Triassic, and current time, and it shows you over 500 different species.
So if that sounds interesting to you hey, just surf on over and check it out at the iTunes app store; after all, it's only a single buck.  And if you end up buying it, you should definitely let us know what you think below!