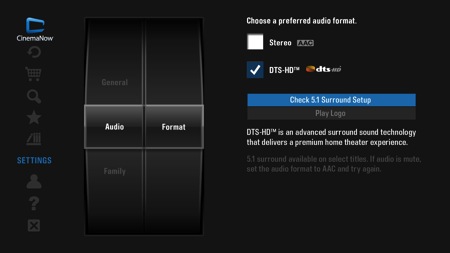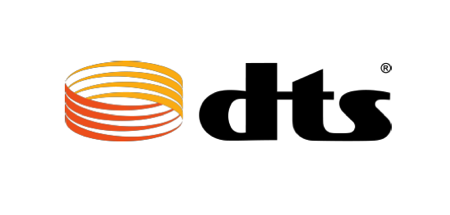 DTS has just announced a key collaboration with Best Buy and Samsung as it rolls out their DTS-HD technology in a rather big way. DTS-HD is a high performance discrete audio codec that has been designed to enable streaming services like Best Buy's CinemaNow to deliver content immersive 5.1 surround sound. As Brian Towne, chief operating officer and executive vice president at DTS noted,
Streaming has a very bright future and we are excited about collaborating with Samsung, Rovi and the services it powers—such as Best Buy's CinemaNow—to deliver an unrivaled audio experience to consumers. We are committed to delivering the industry's most immersive streaming audio solutions, and believe that consumers will appreciate the engaging entertainment experience that DTS-HD surround sound brings to their living rooms.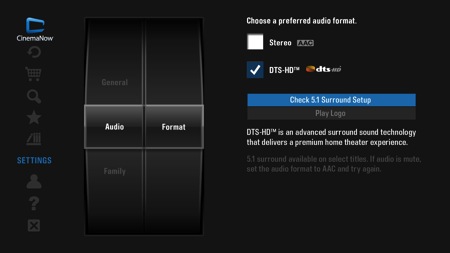 The partnership with BestBuy and Samsung will yield new ways for people to enjoy this advance in audio. BestBuy's CinemaNow digital entertainment service will soon be streaming HD video content paired with DTS-HD surround sound. New Samsung SmartTVs and connected Blu-ray players will ship with the ability to take advantage of this audio improvement. In addition, Samsung's most recent connected TVs and Blu-ray players will soon get a firmware update that allows them to benefit from CinemaNow's streaming of DTS-HD encoded content.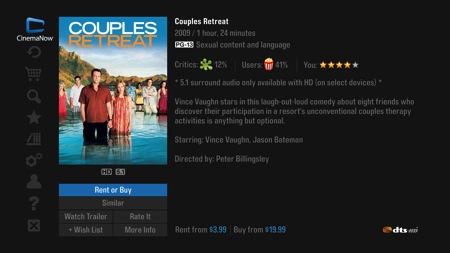 There will be approximately 4,000 CinemaNow titles across movies and television episodes available with DTS-HD via the CinemaNow app in Q2. That catalog will, of course, grow over time.
I had a chance to speak with Brian Towne and other members of the DTS team in advance of this announcement, and I liked what I heard. In response to some of my questions, Brian made clear that DTS-HD will not add any direct expense to the consumer. (It might be best to see it as a "value-added" feature that makes opting for HD rather than SD video a better choice.) I expressed concern about the lag introduced by adding yet more information into an HD video stream. Brian replied that the technology involved in DTS-HS so refined that it causes no noticeable change. Moreover, the size of the audio file, even the DTS-HD audio file, is tiny compared to the size of the video stream. In other words, if you have a DTS-HD-equipped SmartTV or Blu-ray player and you rent a video with DTS-HD you will have a more immersive experience with no cost financial or otherwise.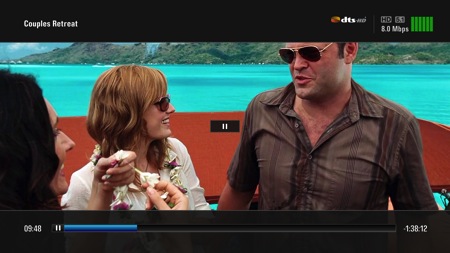 Finally, Brian and his team noted that while Samsung and Best Buy have collaborated on this initial rollout of DTS-HD there is no reason we won't be seeing the technology come to devices and media streams from other companies. In fact, now that the infrastructure is in place for adding the technology to media and then delivering it to consumers, future rollouts are not only possible but will likely happen quickly. You can learn more about this new media enhancement technology here on the DTS website.