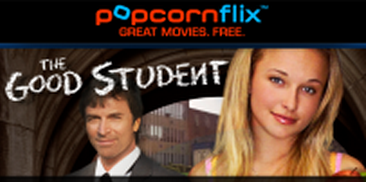 While it is not clear if BlackBerry will be able to dig themselves out of the hole in which they currently find themselves with the deploy of their new Z10 (And if you want to know more about that device, be sure not to miss Judie's absolutely epic review!), it's a good sign that they're not giving up.  As Judie points out in her review, and as we say here often on Gear Diary:  We like competition.  Competition in tech forces companies to innovate, work harder, not be complacent.  And in the smartphone market, part of that is making sure you have a full app pipeline.  And a big part of that app pipeline is entertainment apps–Hulu+, Crackle, and what have you.  In the BlackBerry space, right now that means mentioning to you folks Popcornflix, a new ad-driven free movie app.
Popcornflix  just launched their application for BlackBerry® 10, and it's available for download on BlackBerry® World™. The app is available in the US for the BlackBerry® Z10 smartphone, and will also be available in the US for the BlackBerry® Q10 when they hit the world.  Popcornflix has over 700 theatrically released and independent titles in a wide range of genres, including comedy, family, action/thriller, drama, horror, Bollywood and documentaries. You can use the BlackBerry's share framework to share the app with folks by posting a link to their Facebook or Twitter account or via email.
So if you've got a Blackberry, or are planning on getting a new one, and are thinking about entertainment, maybe this is a good app for you.  Popcornflix is available at the Blackberry app store for Doug's favorite price of $Free.  Surf on over and check it out and, if you get it, be sure to let us know what you think below!