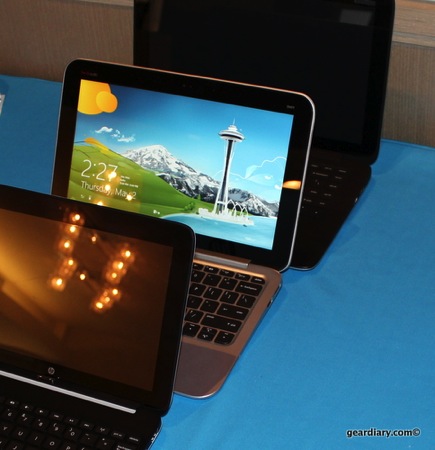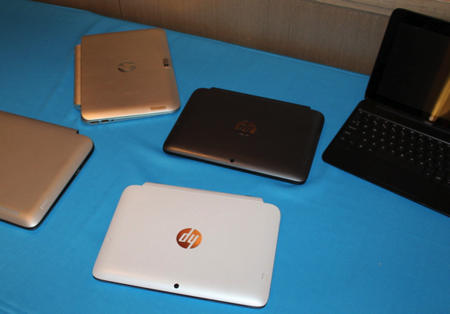 A few weeks ago I had the chance to see some of HP's upcoming product offerings. Among the items to catch my eye were the just-announced HP SlateBook x2 and HP Slit x2. The HP SlateBook x2 and Split x2 join the HP ENVY x2, and they expand HP's offerings of detachable PCs (tablet computers with a keyboard dock that converts them into more traditional laptops) by a factor of three. And while the HP ENVY x2 will remain in HP's product line, I expect these new offerings will better fit both power and mobile workers. (We'll have a review of the HP ENVY x2 shortly.)
This slideshow requires JavaScript.
The first thing you will notice when looking at the three different detachable PCs at the same time is the range of color options. Time and again I was struck by the way in which HP is trying to listen to customers and deliver the products they really want.
The variety of screen sizes also makes an impression, and while the jump from the 10.1″ SlateBook x2 to the 13.3″ Split x2 doesn't sound like much, when you look at all three computers at the same time the difference is rather impactful.
The HP Split x2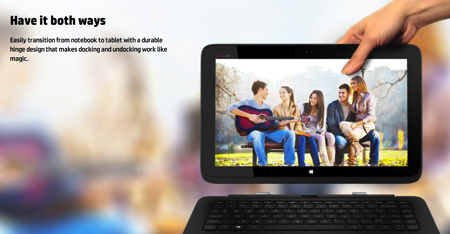 The HP Split x2 is a response to consumers who liked the HP ENVY x2 but want something a bit larger and more powerful. The result is a tablet/laptop combination powered by Microsoft Windows 8 that features a 13.3" diagonal display. The HP Split X2 is powered by a 3rd generation Intel Core  processors. Offering up HP Connected Music and Beats Audio, HP sought to create a system that would offer great sound on the go.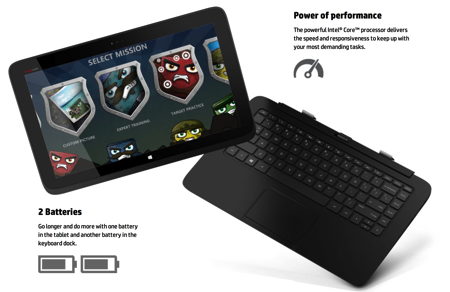 The HP Split x2 is covered with a soft-touch coating. This makes it comfortable to hold and shows fewer fingerprints. That's a good thing, since I expect many people with spend more of their time with the Split x2 in hand in tablet mode. Features like a 2-megapixel HP TrueVision Full HD webcam and an HP ClickPad for precise multi-finger and gesture navigation make this flexible computer one you can use for work and play.
The SlateBook x2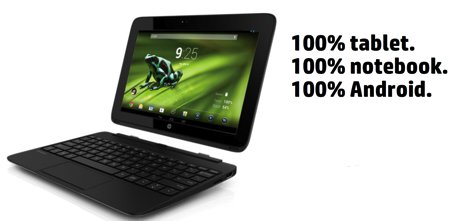 While the HP Split x2 is bigger and more powerful than the HP ENVY x2, the HP SlateBook x2 goes smaller offering up just a 10.1" HD touchscreen The Split x2 also runs Android Jelly Bean 4.2.2. As a result, it provides tight integration with Google services such as Google Now, Google Search, Gmail, YouTube, Google Drive and Google+ Hangouts.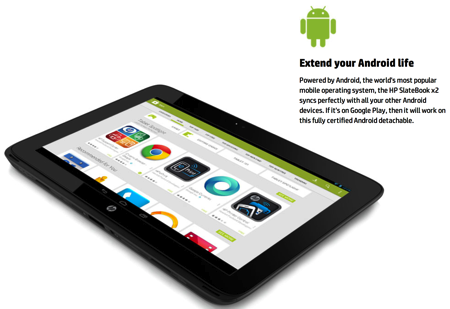 The SlateBook x2 has an NVIDIA Tegra 4 mobile processor. That means users can access the TegraZone app and experience Tegra 4-optimized games. Sporting 64 GB of storage and DTS Sound+ Solution the HP SlateBook x2 promised the full Android tablet experience along with all flexibility of a mobile laptop.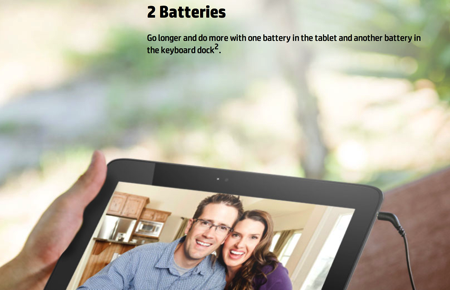 In all three cases, there is a battery in both the tablet and the keyboard portion of the device. That means you'll get good battery life when using the tablet alone and amazing battery life when the tablet and keyboard are used together. Each of the individual computers impressed me when I went hands-on with them last month. Taken together they offer a full line of detachable PCs. The HP SlateBook x2 and HP Split x2 are expected to be available in the United States in August with starting prices of $479.99 and $799.99, respectively. You can learn more here.