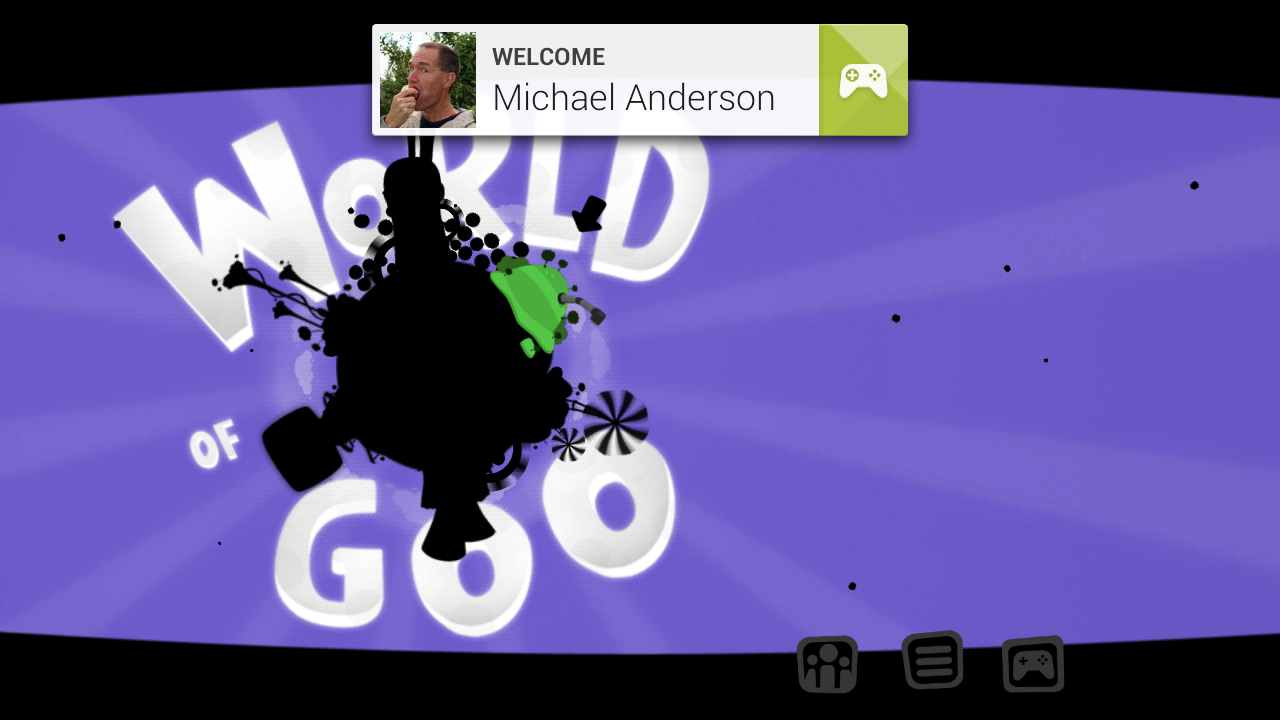 At Google I/O last week we got to see a number of new things, including the music service we already reported on as well as the '-1′ to Google's myriad chat options with 'Hangouts' combining chat and talk. But as a gamer who has enjoyed more and more games coming to Google Play in a reasonable time, I was interested in Google Play Game Services, the awkwardly named game center for Android games. After playing around with a couple of games that utilize the service, I was underwhelmed with what is essentially a mashup of Open Feint and Game Center that seems to offer much more to Google than to gamers — with one key exception.
Since I am certain to get some 'Apple fanboy' emails, let me step back. All roads in gaming lead back more than 30 years to either the PC or arcade. Early consoles were an unsatisfying attempt to bring the arcade into the home, and for many, many years pretty much any non-arcade effort on a console needed the caveat 'for a console' attached. GoldenEye was a pretty good shooter … for a console. XBOX Live was a decent service … for a console. And so on. They needed those caveats, because each was barely on par with what was available on the PC for several years.
So when Apple introduced Game Center, there were few who would have called the service 'innovative' in any way – it simply brought matchmaking and achievements and friends lists, all staples of PC and console multiplayer, to the iOS universe. It wasn't even the first; Open Feint had already done a decent job of bringing some of these to the platform, but required the developer to code the interface to the platform into their game.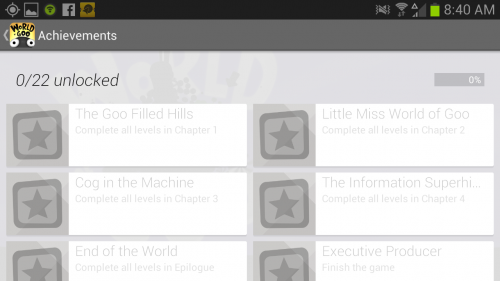 So now Google has Google Play Game Services. YAWN.
What is it? Basically, it's an Open Feint clone that also includes several ideas from Game Center and also provides yet another non-optional way for Google to stuff their abysmal Google+ 'social' service down our throats.
OK, snarkiness aside – Google Play Game Services is a backend API (application programming interface) that allows developers to include Achievements, leaderboards and scores including a social elements linked ONLY to Google+, game authentication monitoring and Cloud Saves.
So yeah … Open Feint with a sprinkle of Game Center.
As noted there is ONE benefit to gamers (well, two) — Cloud Saves. Anyone who has picked up a cloud save from one iOS to another can attest to the value of this, just like when I was traveling and wanted to play Star Wars Knights of the Old Republic on the PC I brought, but had been playing on the Mac; Steam Cloud Saves meant picking up again on Kashyyyk rather than back on Taris.
The other great thing? It is cross-platform! Of course, Google reveals its real motivations by going cross platform: it cares less about Android than about data mining customers wherever possible to exploit them for advertising. But regardless, if you have been bouncing on Real Racing 3 between iOS and Android, if an update brings these services to the game suddenly you can seamlessly pick up where you left off being hounded for in-app purchases on the other platform!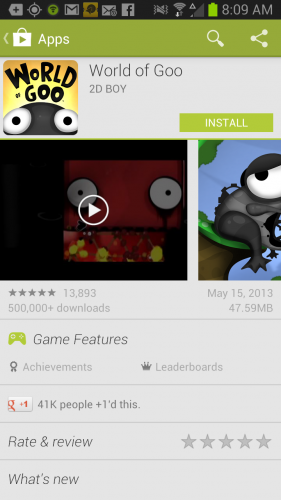 There is one interesting thing I haven't heard much about,  which is the API about authenticating games. Basically, this will tell the game developer whether or not the game from the Google Play Store (and Amazon as well, I assume), and allow the developers to decide what to do next. Given the atrocious state of piracy on Android in particular (iOS is pretty crappy here as well with people unwilling to pay $0.99 for a game), I get this. But it also seems rife with opportunities for abuse — and of course data mining.
And make no mistake about it, data mining is the reason Google did this. They do not care about gamers, they do not care about games, they do not care about you as anything but an advertising revenue stream. Why do I say that? If they cared about gaming, they would clean up the mess of the graphics subsystems that developers need to navigate to get out a game that will work on a reasonable number of systems.
But instead, they have focused on something that (a) drives people to Google+, (b) provides rich data about what games are played, engagement time, how long people play before switching to another game, and (c) they also tie into their advertising data to let Google know how it all correlates.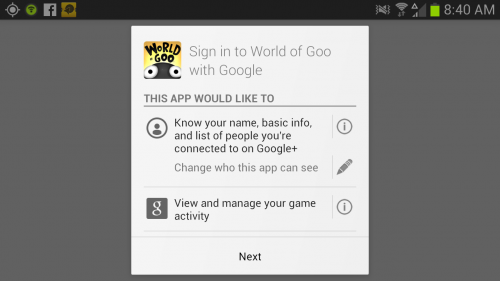 As I mentioned, I have played around with a couple of games … and basically after you choose your Google account, what you see are badges pop up like in Open Feint or Game Center when you do things, and get achievements to track on a separate screen.
I know I am being harsh about this, and in reality any sort of progress in the social aspects of gaming is a good thing — especially when it means bringing multiplayer matching to the leading smartphone platform in the world. But I have to say that for a platform that has so many really, really smart people working on it (I have friends at various tech companies from my many years in semiconductors), this is a pretty weak offering.