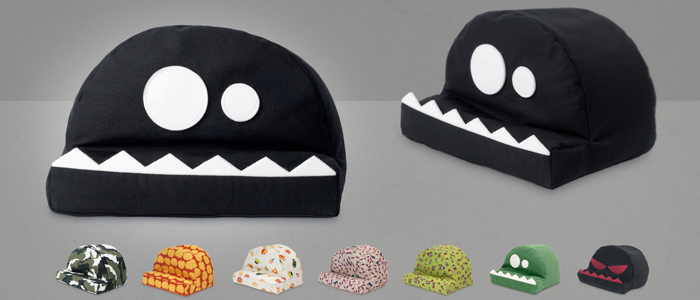 I don't know about you, but when I think of "products from Germany", I think of severe stuff, by and large.  BMW and Audi cars.  Fine engineering, expensive, heavy-duty.  When I think of Germany, I don't think of goofy stuff.  Germany makes you think of wars and Bauhaus design elements and Autobahns and such.  Germans with a playful sense of humor?  It's hard to believe.
But it's true.  In fact, my favorite 90s show "Northern Exposure" played on this very expectation, when Maurice ordered a rare Ausberg clock which came with a German engineer to install and tune it.  Expecting some slender, black turtleneck and round glasses wearing German nerd, he instead got a loud, funny, offbeat bohemian (much to his dismay).  An important reminder that Germans, and German engineering, like Americans come in all shapes and sizes and types.  They don't just make high-end autos, they also make things like the fläzbag, a tablet (iPad, Kindle, Nook, what have you) pillow stand. Want a soft, goofy pillowy think to hold up your tablet?  Well, maybe this time you should trust the Germans!
So if you've been wanting an unusual stand for you iPad or Kindle or nook or whatever, something that will stand up not just on your desk, but also on your bed or your couch or heck, even on your stomach, maybe this is what you've been needing.  Surf on over to the team and marke (would that be "team und marke"?) web site, where it's available for and MSRP of between €34.80 and €54.80.  And if you get yourself one, be sure to let us know what you think below!