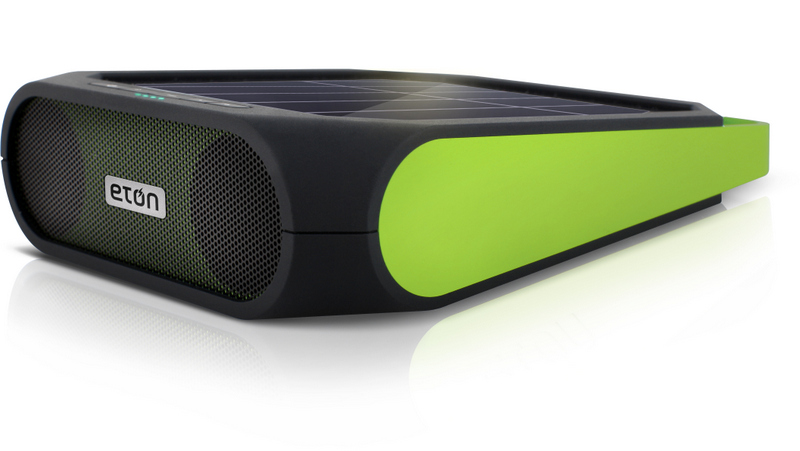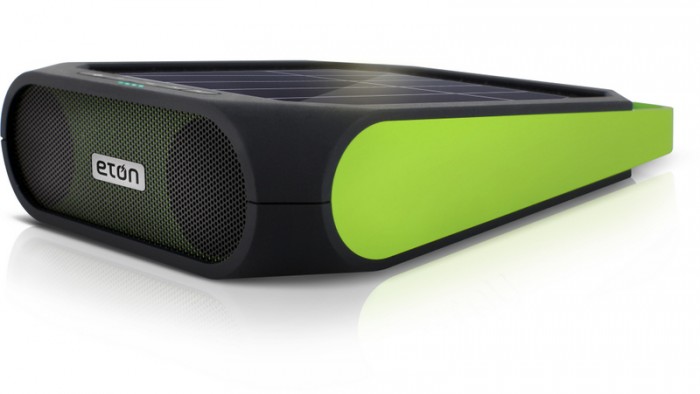 We talk up the folks at Eton quite a bit for their excellent emergency radios and lights. If your home and camping kits don't have at least an Eton radio, stop what you're doing and go shop for one. I'll be right here waiting. They're versatile, offer multiple features, and will last a long time. However, maybe you don't want to tote your awesome emergency radio to a day at the beach, you just want a solid speaker to play some music. Eton has ideas for that too, and like their radios and lights, their new Rugged rukus speaker is far from a one-trick pony.
Sure, the Rugged rukus offers Bluetooth streaming, so your smartphone can stay snuggled safe in your bag while you enjoy some Pandora. And it's splash-proof, so if high tide or a water fight sneak up on you the worst that happens is a soggy towel, not a broken speaker. But there's more, of course. It's got a solar panel for easy charging outdoors, PLUS it will charge your smartphone via USB. You're powered and entertained, no matter what you need or where you're camping/sunbathing/communing with nature.
Pair this with a Lifeproof case (or, if you're cheap/simple, a Ziploc bag), and you really will be set for a day at the beach! Just, seriously — watch out for high tide. My parents have lost two cell phones and a Kindle to sneak wave attacks, so we take splash-proof gear very seriously in my family … I'm thinking this may need to be slipped into their beach bags this summer to avoid further electronic carnage in the ongoing battle against the water!
Rugged Rukus is available now from Rei, Amazon, and Apple for $99.99…be sure to check out!