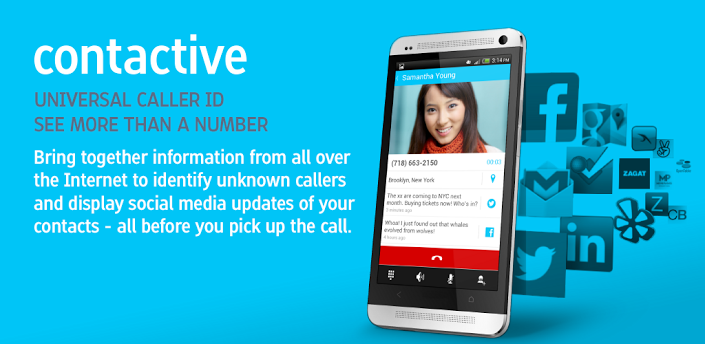 I don't know about you, but keeping track of all my contacts is kind of a PITA.  I mean, you have your Facebook folks, and your Google folks, and Twitter, and your regular desktop address book, and who knows how many other contacts floating around in Skype or Lync or wherever.  Some of these apps are clever enough to try to consolidate things for you, but personally it always feels uncomfortable to me to give, say, Facebook permission to have, say, my Google contacts.  (I don't trust Facebook at all, myself; I think they would sell their database to pretty much anyone for any reason.  But that's me.)  In any event, keeping track of all that stuff and updating it is hard.
That's where Contactive wants to help (at least, if you have an Android device).  Contactive is a free Android app that provides you with a universal caller ID system and a unified social media address book. It gives you a cheat sheet of your contacts' latest updates as their call is coming in.  It unites the functionality of your address book with knowledge of the Internet. It collects information from your social media networks, publicly available sources, and Contactive's Global Directory to show who's calling before you even pick up the call; you can update the information in real-time.  Their list of sources is growing all the time, and already includes Facebook, Twitter, LinkedIn, Gmail, Yelp, Google Places, White/Yellow Pages, and Contactive's Global Directory
Sound like something that might be interesting for you?  Surf on over to Google Play and check it out; it's free, after all.  And if you get it, be sure to let us know what you think below!