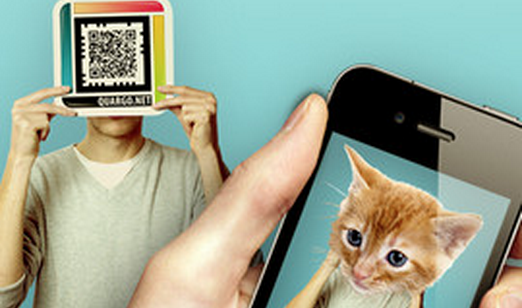 I'll admit it:  I basically ignore QR codes.  I don't pay attention to them on billboards, TV commercials, online, or wherever the heck else they appear.  And I don't much pay attention to QR apps, either.  Call me a tech dinosaur.
On the other hand, I do like augmented reality apps.  I have downloaded quite a few, even though I rarely use them.  My favorites are the astronomy-related ones, where you can point your iPhone at a patch of sky and identify stars, planets, and the like.  I also like the travel-related ones, and have stockpiled a few in the event that I'm able to do some good, solid travel again.  (I have one London augmented reality app that I am using for a novel I'm writing.
Well, Quargo decided they needed to mix those two items into one app.  Their idea was to bring an app to everyone so that they could create an AR content, as easily as generating a QR code. The first you need to scan the QR code, so that the virtual content will download, and then the app switches over to camera mode, allowing you to see the graphic in reality.
Sound interesting?  Then you should surf on over and check it out on iTunes.  It's available for free, so why not give it a try?  And if you do, be sure to let us know what you think about it below.  (And feel free to point out what an old stick-in-the-mud I am about QR codes, too.)