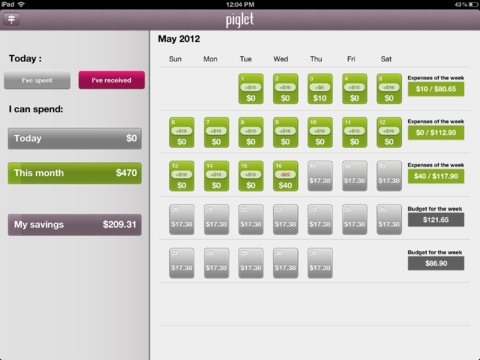 I don't know about you, but for me, budgeting is one of my very least-favorite activities.  When you have a family, yeah, it's definitely important, no question.  After all, you don't want to get to the end of a month and find out, well, shoot, I don't have the scratch to pay the electric bill.  Or whatever.  One way around that is to be rich, of course, but for the rest of us, budgeting is kinda key.  And now that we live in an age where There's An App For That, you can bet money (See what I did there?) that there's an app for budgeting.  But which one should you get, hm?
Well, here's a possibility:  Piglet.  (Yeah, I know; but after tens of millions of apps, a lot of names are already taken.  Heck, one of my favorite early iOS games was not updated for the 4S and has been completely deprecated by the game company, and now the name of that game has been taken by a completely different type of app!  How annoying!  Okay, sorry; I'm digressing.)  Anyway, Piglet is a simple app for iPhone, iPad and iPod that helps you to track your daily, weekly and monthly budget. Piglet only does one thing:  It tells you how much you can spend in a 100=% hassle-free way. Just set up a monthly allowance and set your budget, and Piglet calculates the rest for you.
Sound like something that might help you out with your own budgeting problems?  Well then, surf on over to the iTunes app store and download it; it's available for an MSRP of $1.99.  And if you get it and try it out, be sure to let us know what you think below!