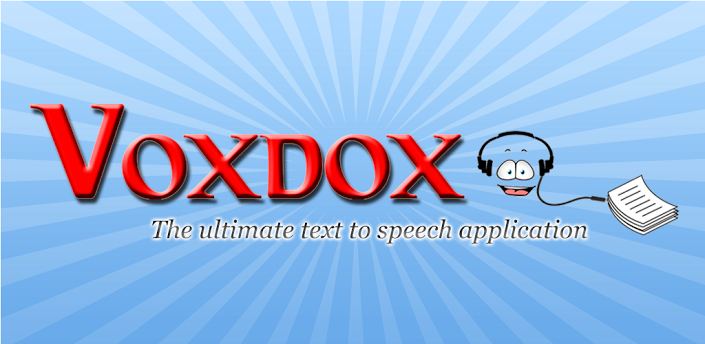 So I'm re-reading (well, listening to the audio book version, actually) Neal Stephenson's epic "Cryptonomicon", and one of the main characters is named "Enoch Root".  His name is actually a little UNIX in-joke, in that the "root" user is the main user on a computer system, the person who has permission to do basically anything.  So when I saw this item come into our in-box, I was a bit more positively disposed towards it because the name of the company that developed this app is "Root Applications".  (I also like that they're Israeli cuz I'm, ya know, Jewish, but that's me.)  And then there's the added irony that I'm listening to an audio book, and this piece is about a text-to-speech conversion tool!  How much coincidence can you get with one new piece, nu?
Anyway, the app:
Voxdox is a text-to-speech app that has both an Android and iOS version for smartphones and tablets.  It not only converts text files, such as Word and PDF, it also allows you to take pictures of printed pages and even entire books, using the mobile phone's camera, and instantly convert them to speech.  How cool is that?
Not only that, you can also share your audio files with other folks, using Voxbox, the app's integrated social database. If you only want to share your text and audio with friends, classmates or colleagues, you can use Facebook to define which of your networks have access to materials uploaded to Voxbox.
Sound cool?  Well, why not give it a go, then?  It's available in the iTunes app store and on Google Play for Doug's Favorite Price™ (i.e., FREE).  Download it, try it out, and after you do be sure to let us know what you think below!