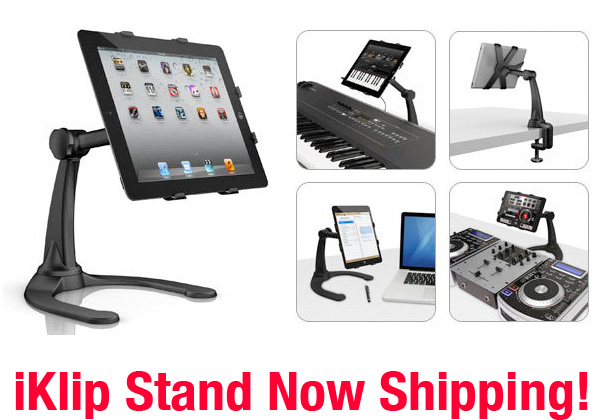 IK has announced that the iKlip Stand, announced back at CES 2013, is now shipping. The iKlip Stand allows you to control the positioning of your iPad with respect to the rest of your workspace, anchoring the stand under your keyboard. It looks great and we will have a review in the coming weeks.
You can order iKlip Stand through IK Multimedia, Sweetwater Sound or your favorite retailer.
Pre-Order iRig BlueBoard
Another great-looking device announced at CES in January, Blueboard is ready for pre-order, with a September shipping date. Here are some details:
We'll soon be shipping one of our most exciting and innovative products, iRig BlueBoard, the first Bluetooth MIDI pedalboard controller. With it, you'll have control over apps like AmpliTube, SampleTank, VocaLive — any MIDI controllable app — via remote footswitches. The unit has 4 backlit footswitch pads, is ultra-lightweight, runs on three AAA batteries, and has a range of 10 meters! Pre-order today, and you'll be among the first to get this amazing piece of gear.
For me one of the great things is that it is a universal device, so you can use it with any app that supports Core MIDI such as GarageBand. Also love how it is the next logical step from iRig Stomp, taking that device to controlling four elements of your signal path.
iRig BlueBoard costs $99.99 to pre-order.
Pre-Order iLoud
Yet another hot new device from IK at CES was iLoud, the combination studio monitor and Bluetooth speaker. iLoud is a 'musician first' speaker that:
iLoud is a rechargeable, 2-way, stereo unit that's so efficient that it's even louder than its hefty 40W rating would indicate. It provides audio accuracy similar to what you'd find in studio monitor systems, and its low-end response is superb. iLoud streams music from your mobile device via Bluetooth, and even has a built-in iRig circuit. Pre-order today, and be one of the first to own this groundbreaking product.
What I loved about iLoud was the versatility – plug it in and use it with all of your normal home studio gear, grab your iPad and iRig Keys and use it on the go, or pull it out to just jam to tunes with family or friends. Definitely looking forward to checking this one out.