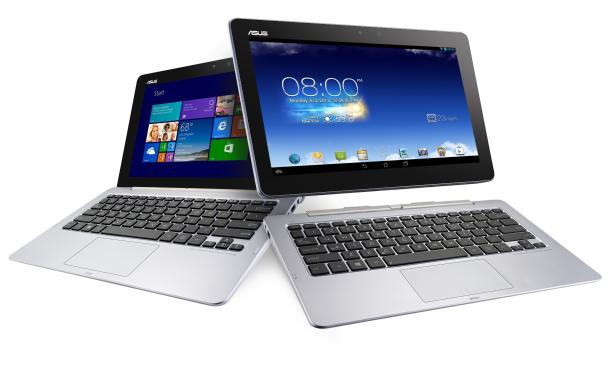 Tablet? Yes! Laptop? Sure! Windows? You bet! Android? Naturally! ASUS has covered all bases with the newly announced ASUS Transformer Book Trio. Essentially two computers in one, the Book Trio is an attempt to meet all of the disparate ultraportable computing needs by breaking them out across three platforms on one device. The only thing missing now is the price!
Like other Transformer products, the Book Trio has a tablet that detaches from a keyboard. Once detached you have an (up to) 64GB Android tablet with a 11.6″ screen running Android 4.2 Jelly Bean. The tablet runs on a dual core Atom Z2760 at 1.6GHz, with 2GB of RAM, and also has 802.11n 2.4GHz WiFi, Bluetooth 3.0, micro-USB 2.0, a 3.5mm headphone/microphone jack, and a microSD slot. The display is 1080p, and there are 5MP and 720p cameras on back and front. In other words, fairly unremarkable.
But the big news is that rather than just having a battery in the keyboard, ASUS has put an entire PC in there!
The 'dock' is actually a Windows 8 ultraportable PC! The system is powered by a 4th Generation Intel Core CPU ('Haswell' Core i5 or i7), and sports 4GB of RAM, and up to a 1TB hard drive. Other features include dual-band 802.11ac WiFi, Bluetooth 4.0, two USB 3.0 ports, a mini-DisplayPort connector, a micro-HDMI 1.4 output, and a second 3.5mm headphone/microphone plug. Now THIS is worthy of attention!
Since there are multiple display outputs, you can use the tablet and 'dock' separately by plugging in an external monitor. All of this capability comes with multiple price tags. First off the Book Trio is thicker than most Ultrabooks, and it also weighs more. Another price is delivery – in spite of being mentioned months ago, we still have no clue about delivery time. But the REAL price is one we don't know yet – how much all of this will cost. My estimation is we will pay a hefty premium for getting so much in one package, but it remains to be seen whether the end product will cost more than buying a separate ultrabook and tablet.
Read more at ASUS official site.
What do you think? Would you be interested in an all-in-one package with Android and Windows 8 devices? What would you be willing to pay?