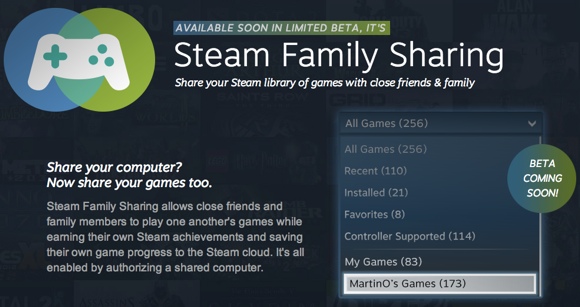 I joined Steam on Day One, having already started moving my life to digital downloads. I love Steam and have hundreds of games. But when my son wants to play Saints Row 3, he has to use my Steam account. Now Steam has introduced Steam Family Sharing, which will let any trusted account use my games, with limits of course.
Limits have always been a drawback of Steam – you use the ability to resell games, off-line gaming is limited, and you can't be logged in on more than one computer at a time (even to play on one and browse on the other. Through the years Valve has made gradual changes that are more gamer-friendly, and the ability to share game libraries across friends is a huge step in that direction! Here is what Valve says:
"Our customers have expressed a desire to share their digital games among friends and family members, just as current retail games, books, DVDs, and other physical media can be shared," explained Anna Sweet of Valve. "Family Sharing was created in direct response to these user requests."
The system will initially roll out in a limited beta, but will soon be available for all PC, Mac and Linux users. All you need to do is authorize a shared computer, and then the lender's library becomes available for all users of the machine to access, download and play. When you use games from someone elses library, all saves and customization gets stored with YOUR account. So if you decide to buy the game you can pick up where you left off.
Of course, there are limits …
If you were playing someone else's game that was loaded with DLC, you will likely need to buy all of that DLC to take advantage of certain features. Also, if you earn things playing on someone else's game they are brought to your account – so you can't earn things for someone else.
Finally, this doesn't change the policy on simultaneous usage of an account's library: if you are playing someone else's game and they want to play something, you will be notified that you have a few minutes to either buy the game of quit playing (before you're booted, I assume).
As to how this will work in real usage it isn't clear, but it is a great step towards more open sharing of games and accounts that has been so tightly restricted up until now.