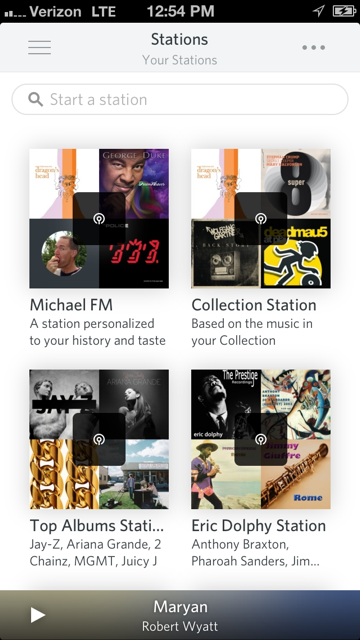 I have made no secret of my love for Rdio. We also use Spotify and Slacker, but I always go to Rdio. It started with having Mary Halvorson's trio album, and has progressed from there to just being a service that works well for me. Recently they added 'ultra-personalized' radio stations, and now they are launching a free music service!
Rdio have partnered with Cumulus Media, operator of 525 radio stations. The deal is a partnership with a rumored value of $100 million. The deal will allow Cumulus a 'digital push', and provide Rdio with more funds, programming and advertising via the radio stations.
But the big news is that Cumulus plans to sell advertising to allow for a free ad-supported version of Rdio. We don't have any details yet in terms of what it will inculde, where it will play, and when it will launch. But for a service that has struggled to compete with Pandora and Spotify (but is reportedly doing better than anyone other than those two), this method of expanding the user base couldn't come at a better time with the launch of iTunes Radio.
Rdio – similar to Slacker – has been hard at work figuring out how to offer a service that combines on-demand and radio-like approaches at once. They note that there are not simply two distinct listener models. With their new personalized stations they seek to bring their own approach to 'stations' similar to Pandora, but with their deep 20+ million song catalog that allows them greater depth and breadth.
With iTunes Radio launching, Rdio clearly has an uphill battle ahead of it. But it has survived this long, and the new deal positions it to keep going for a while. For me, I hope it survives, not just because I like the service but because competition is good!