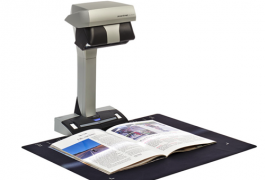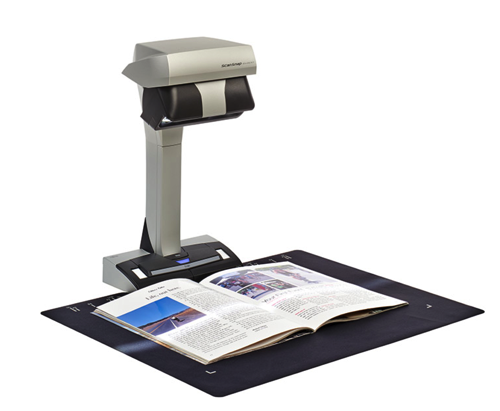 The ScanSnap series of high-speed scanners is a mainstay of my workflow and a key part of moving toward a paperless workflow. Most recently the iX500 high-speed scanner (read our review) cut the cord and initiated truly wirelessly scanning. Now Fujitsu is introducing the ScanSnap SV600, the newest member of the ScanSnap family. The $795.00 scanner is available now.
I've been using a ScanSnap SV600 for the past few days and am truly impressed. Look for our full review shortly. In the meantime here is a quick video and a few key details that help explain why this is such a terrific new offering from Fujitsu.
The ScanSnap SV600 offers "Simple, One-Button Scanning of Bound and Over-Sized Documents Such as Books, Magazines and Newspapers". Its overhead design and powerful scanning technologies — including "Versatile Imaging Technology" (VI Technology) that allows the scanner to minimize the unevenness in image quality and generate a consistent digital image that looks natural let users scan, process and save documents and items in ways that were previously a challenge. That means items such as thick books, artwork and uneven documents all be scanned and captured. The ScanSnap SV600 is so versatile that it can scan large documents up to 1.18 inches high and 11" x 17" in length in less than 3 seconds. It is also able to scan multiple documents at the same time and automatically crop and save them as individual digitized documents. In other words, you can place six business cards beneath the scanner, and it will scan once but save each card as an individual document.
Here are just a few of the cool features the ScanSnap SV600 offers.
Book Image Correction: Book Image Correction compensates for the curvature in open books or magazines and automatically corrects the distortion in the scanned image, and then you can confirm and fine-tune the images on the preview dialog after scanning.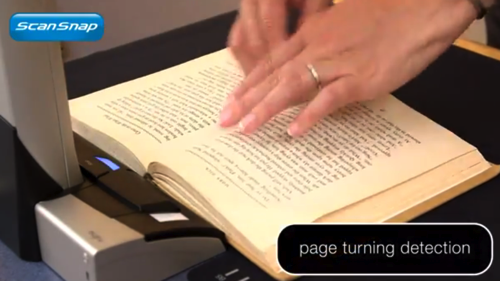 Page Turning Detection: Page Turning Detection automatically identifies when a page is turned for continuous, hassle-free one-button scanning.
Versatile Imaging Technology: The scanner is equipped with "VI Technology" combining a deep depth of field lens, CCD linear image sensor and high directivity LED lamp to minimize unevenness in image quality and prevent the scans from being affected by the surrounding light to generate smooth images even when scanning from a distance.
Digital Book Filing Cabinet Creation: Bundled with Rack2-Filer Smart with Magic Desktop, users are able to efficiently scan books or magazines and organize them into graphical e-binders and virtual cabinets. Users simply place a bound document under the scanner and let its Book Image Correction do the work. This feature compensates for the curvature in open books or magazines to flatten the distortion in the scanned image by accurately detecting the outlines of the pages and inferring the height of the documents. Users can also utilize the SV600's Page Turning Detection, which automatically identifies when a page is turned for continuous, hassle-free one-button scanning. Users can then fine tune scanned images in the preview dialog if necessary, create thumbnails using the front and back cover of a scanned book, and file away in the virtual bookshelf for anywhere, anytime access of their digitized books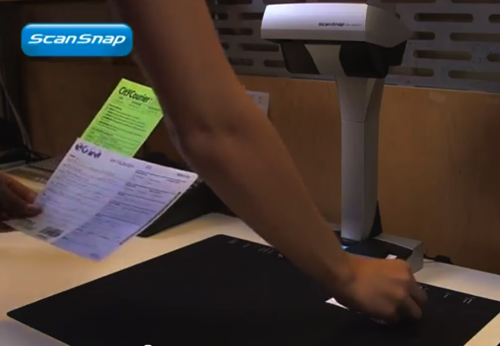 Multiple Document Detection: With a simple push of a button the Multiple Document Detection function allows users to automatically scan and crop several documents into one scan when placed within the scanning area. Place multiple business cards, photos or clippings and watch while the SV600 intelligently crops and rotates each one.
Cloud Services Support: Users can scan documents directly to Evernote, Google Docs™, Dropbox, SugarSync, and Salesforce from their computer, giving them even more flexibility to store, share and access their paperwork.
Scan-to Functions: Offers users a flexible way to manage PDF, searchable PDF and JPEG files, providing them with an easy way to scan to a folder, attach scans to an email, send scans to a printer, as well as to a variety of cloud-based repositories like Evernote, Dropbox, and others.
ScanSnap Manager: Provides users with one button searchable PDF creation, access to intelligent features and custom scan settings (profiles) for simple operation with sophisticated results.
The Fujitsu ScanSnap SV600 is an impressive addition to the ScanSnap family of scanners. I'm just learning how to truly take advantage of all the features it offers and will be back with a few review shortly. The $795 scanner is available now. You can learn more and order yours here.