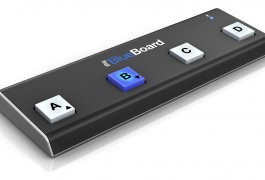 Back at CES one of the cool things IK Multimedia announced was iRig BlueBoard, a Bluetooth pedalboard that works with any app on your iPhone, iPad or Mac that supports Apple's Core MIDI protocol. IK announced iRig BlueBoard for pre-order back in August, and today they announced that BlueBoard is now shipping! Look for my hands-on review soon!
According to IK Multimedia:
iRig BlueBoard is the first wireless MIDI pedalboard for iPhone, iPad, iPod touch and Mac that uses Bluetooth technology to transmit MIDI messages to control app and software functions and features. Musicians can use iRig BlueBoard to control parameters in their favorite music making apps — such as stompbox effects on/off, preset patch-switching on the fly, volume or wah control, or any other MIDI controllable function. Set-up is as simple as turning on the power and launching the iRig BlueBoard companion app and assigning the backlit pads to the desired control function.
Here is what I love even before reviewing:
- Low power means you can use rechargeable AAA batteries for long life.
- Small size makes it easy to carry with you.
- Most importantly, it works with any app that supports Core MIDI such as GarageBand (as well as all of IK's stuff).
- More than an on/off control
- You can add a plug-in expression pedal – great for wah-wah pedal effects!
But I do have some concerns:
- Bluetooth 4.0 / LE is a newer protocol, which immediately limits the number of supported devices.
- How will usability of long-versus-short taps work in performance?
- How will the companion app impact latency and interact with other apps?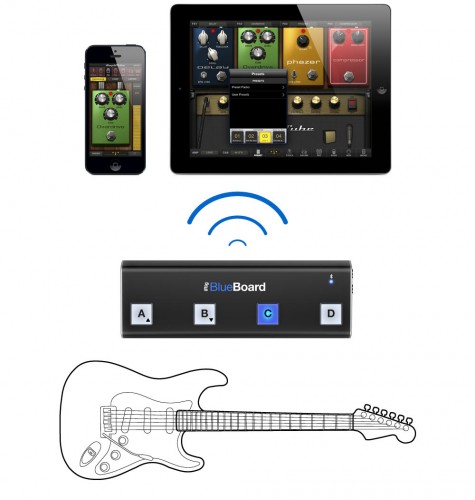 Compatibility:
- iRig BlueBoard is compatible with iPhone 5 and 4S, iPad 3rd and 4th generation, iPad Mini, and iPod touch 5th generation. For Mac, it's compatible with any model that supports Bluetooth 4.0 / Bluetooth Low Energy, like any MacBook Air, Mac Mini, or MacBook Pro that was released after June 2012.
Here is a video showing off the features of iRig BlueBoard:
You can order iRig BlueBoard from IK Multimedia here for $99.99.
Look for my full review coming soon!