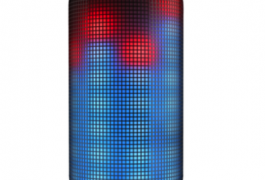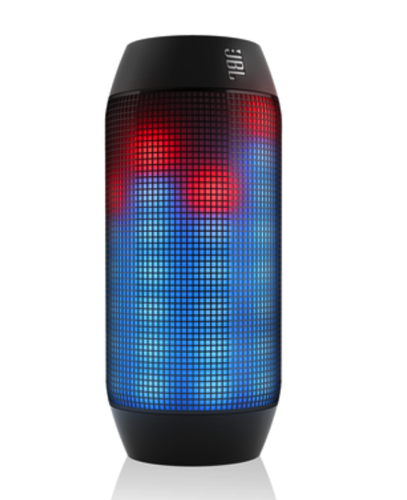 JBL has just announced their new $199.95 Pulse Bluetooth speaker. In addition to the great sound we've come to expect from JBL products, the Pulse offers a programmable LED light show. Two high-performance 40 mm drivers offer great sound while multiple LEDs combined with pre-programmed and custom-programmed light themes pulse to the music. Pre-order now for mid-November shipping.
While there is no question the light show offered by the Pulse is a bit of a gimmick, the fact that it is powered by JBL speakers and technology means it should deliver good sound. THAT, in turn, means the light show is simply an added bonus.
From JBL:
Take your music with you wherever you go, and liven up any get-together with a Multi-LED light show. JBL Pulse is a wireless sound and vision treat for the eyes and ears that gives you new ways to enjoy your favorite tunes. JBL Pulse streams your music from any portable device via Bluetooth. Enhance the music with your choice of programmed or customizable light themes. JBL Pulse's sound is a stereo punch, clear and powerful, and portable enough to turn anyplace into a party space.
Features:
Programmable LED lights that pulse to your music wherever and whenever you want
Unrivaled JBL sound with two high-performance 40 mm drivers and a custom-tuned bass port for clear, room-filling, high-fidelity sound
Wireless Bluetooth stereo streaming with NFC for instantaneous hassle-free setup
Pre-programmed and custom-programmed light themes control brightness and color, pulsed to your music
Rechargeable Lithium-ion battery for hours of wireless fun
The JBL app offers a simplified set-up, easy connection to your mobile music devices, and complete control
The Pulse looks like a fun way to add a visual experience to your music while enjoying JBL quality sound. And while I'm not particularly excited by the LED aspect of this speaker (I've got a Phillip's Hue light system for that!), I can see this being a big hit in dorm rooms. Learn more.