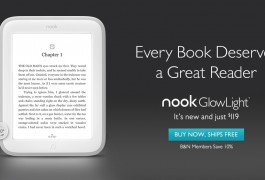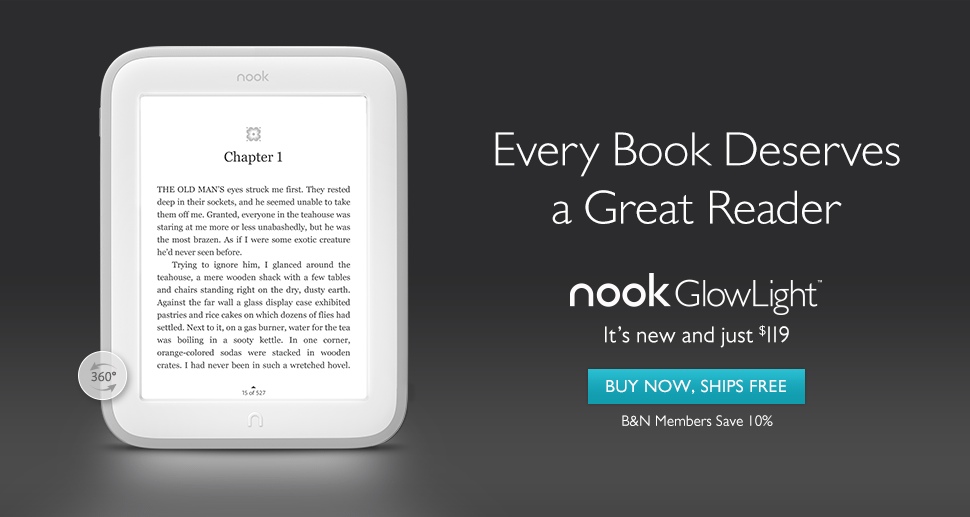 Good news, apparently Barnes and Noble is still making ebook readers! The future of the Nook was in flux repeatedly over the last year, but it seems B&N is still behind their digital future, and they've released an updated version of the Nook Glowlight with impressive specifications for only $119 (or 10% less if you're a B&N member)!
The poor Nook has not seen an update in over a year, but it's nice to see that when B&N refreshes hardware they take it very seriously. The newest Nook is thinner and rocks a better screen, plus they've apparently reduced the eInk refresh rate to nearly nothing-this means it is more responsive and won't have the eInk "flash" effect every few pages like other ebook readers. What really intrigues me is that B&N has reportedly put a rubber bumper around the device, making it slightly more rugged. This might give them a slight edge for libraries and institutions looking to use ebook readers if it really does make the Nook less likely to break.
I want this to be a success for Barnes and Noble. For one, the company needs a solid device launch to assure customers they really are committed to the Nook business. In addition, the more successful B&N is, the more it lights a fire under Amazon to keep innovating as well. The new Paperwhite is a good example of an incrementally decent product, but a bit of a yawner. The new Glowlight, on the other hand, is a big leap forward for the Nook line; if the two companies continually try to leapfrog each other in innovations, there's more chance of exciting changes in traditional ebook readers, and not just in the tablet space.
The other thing that gives me some hope is the hands-on from Techcrunch. They spoke with B&N and came away with the idea that the company recognizes their booksellers are an asset Amazon doesn't have, and if this leads to leveraging the physical stores as a tie to the Nook this could work out well. Right now the Nook displays are just a kiosk in the B&N stores, but a few solid sales initiatives during the holiday season could really push Nook sales. It may be too late to roll out an Amazon-style Matchbook service for this year, but imagine being able to walk into a B&N, buy a Nook, and using a smartphone app to scan bar codes and download samples of the store employees favorite titles, lists that are specific to the store when you enter. Or offer up an app that lets you scan a book in a B&N store and buy it in the Nook app? It looks like B&N members get 10% off the cost of the Nook itself, it will be interesting to see if that discount starts extending to ebooks as well!
It remains to be seen how the dust will settle when it comes to ebooks. We're past the rapid expansion phase, but that doesn't mean there isn't still room for growth and improvement, and I am excited that today's entry from B&N is a chance to see the next leap forwards!