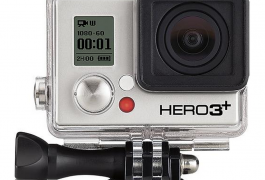 There comes a time when it becomes obvious that the camera on a smartphone isn't quite enough, and in order to take photography to the next level, something more will be needed. Do you know someone like that? Their pictures are amazing, but their talent is being held back by their medium? Well then, look no further …
This small interchangeable lens camera is pricey, but it is awesome. onboard WiFi, the ability to run apps, and great image quality make this a terrific option for someone who is serious about photography but equally serious about traveling light.
If the NEX-6 is too rich for your taste, then you might try the NEX-3N. It packs a similarly awesome design with good image quality and features at a far lower price!
If you, or the person receiving your gift, still likes the idea of a traditional DSLR, then you might want to check this camera out. Sure it is already a few years old, but it remains a terrific entry-level DSLR. And if you want to add the ability to wirelessly transfer your images to your tablet or smartphone, just pick up one of EYE-FI's various offerings.
If a tripod is too big and bulky for you to carry, why not try out a monopod? It lets you extend the reach of your camera or, in conjunction with your legs, you can create a hybrid-tripod on the go. Once you start using a monopod, you will likely want to keep one with you much all the time!
Sony moved away from proprietary flash memory a few years ago, but they still have a largely closed system in other areas. For example, the NEX line doesn't have a standard microphone input. That means you'll need to pick up Sony's own microphone if the mic on the NEX doesn't cut it for you. The good news is that this microphone offers decent quality and isn't all that expensive.
There are lots of options to let you take your gear on the go. Dan is a big fan of Lowepro's offerings, and he is an especially big fan of this particular backpack. It is comfortable, works well, and fits just enough gear. Plus, it has a nice price.
If your camera doesn't have onboard WiFi, then you don't need to go out and buy a new camera. Instead just pick up one of Eye-Fi's offerings. The cards come in 8GB, 16GB and 32GB sizes, and they allow your camera and mobile device to play quite nicely together!
Want to shoot action shots while biking, or skiing, or hang gliding? There are a few good options available, but the defacto king of the hill is the GoPro Hero3. People who have and use a GoPro swear by them. You (or the person who receives one from you) will too!
You haven't ever seen a point-and-shoot camera quite like this. Sure it is super-pricey, but the images you capture will amaze you; people who see them won't believe you took them with something as small as the RX100. There is a reason it is called the professional's point-and-shoot.
If you want to go swimming with your camera, then this is a great way to do so for under $200. The camera has a cool look, and it will let you capture some impressive images you would otherwise never get.
This Holiday Guide is sponsored by Best Buy.