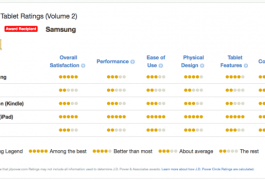 Admittedly we don't have all of the details yet, but there seems to be more to the story of J.D. Power placing Samsung above Apple in the 'tablet user satisfaction' report, according to Fortune. The cynical side of me says that left off the column about how much each company paid for placement … with Samsung getting 5 stars!
With my kids in high school and every grade making a difference in their overall transcript at this point, I will always walk through the math of the course syllabus with them: get the easy points, make sure to place emphasis where it matters most, and so on. But I never felt the need to say 'if you get no better than 90% on any single assignment, you will not get a course grade that exceeds 90%.
Which is what it seems Samsung managed to do.
Samsung failed to get 5 stars in any category, yet managed a 5-star 'Overall'. The only area they did better at than Apple was 'Cost' (surprising exactly ZERO people globally) … which accounts for 16% weighting. It was interesting looking through the comments for people who actually took the time to do the math (since '4 stars' is really a 70-90% range) to see if there was a way for Samsung to have actually scored higher. There was … but then neither company would have scored 5 stars in 'Overall'.
It will be interesting to see how this all works out – but as we have seen in the past, headlines are forever, and corrections are dumped to 'page 6′ or whatever and never read. Only if there is real evidence of impropriety will we likely hear more.