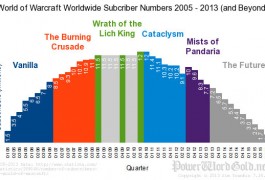 It is tough being #1, because it means everyone is always out to get you. From the time it launched almost exactly 9 years ago to universal acclaim, every new game became a potential 'WoW killer'. Now as we learn that World of Warcraft subscriptions are down to 7.6 million, it appears the best days are past.
Activision Blizzard had to release the numbers in a disclosure because they are buying back a controlling interest from Vivendi to reshape their portfolio and strengthen their independent position.
World of Warcraft peaked in late 2010 with over 12 million subscribers – paying $15 a month – but has been slowly eroding players ever since. That erosion comes from some combination of factors including:
- Other new games (mostly free) that are attracting players (like League of Legends)
- The 'Freemium' craze peeling off loads of gamers (Neverwinter, Star Wars The Old Republic)
- The fact that World of Warcraft is NINE YEARS OLD!
That last one is just amazing – to put it in perspective, that was when Halo 2, Half-Life 2, the original Far Cry and Painkiller, and Call of Duty: United Offensive came out.
Call of Duty: United Offensive is particularly notable, because it is an expansion for the FIRST Call of Duty game. Remember that 'Modern Warfare' was the FOURTH game … and the recently released 'Ghosts' is the TENTH game in the series. Puts things in perspective …
It isn't clear what plans Activision Blizzard have to either reverse the trend, move to a freemium model or bring in some new releases to make up for the declining revenue. Their other releases, including Diablo III and Starcraft II, have been mixed.
Starcraft II is the fastest selling strategy game of all time, but the first expansion had initial success but didn't continue selling well, and it isn't clear how the next expansion will perform. Diablo III has sold more than 14.5 million copies, but the upcoming expansion will determine the lifespan of the game.
Regardless, both of these games are a couple of years old, and we can only hope that Blizzard has something new up their sleeves.
Have you played World of Warcraft? Subscribed? Do you STILL subscribe? What are your thoughts as the subscriber base declines?