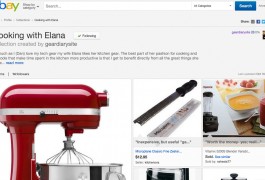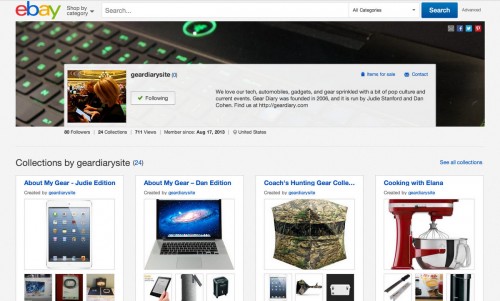 Have you had a chance to check out our eBay collections? We've been busy for the past month or so, curating and posting some of our favorite gear; you can see our selections in the new "My Collections" portal. We'd appreciate it if you would follow our collections; in the process, you may just win $25,000!
Dan and I have put together 24 different collections; these are just two of them:
Dan: I'm not a hunter, and I have no interest in becoming one, but I love what Travis did with this collection because it shows the breath and depth of what is available on eBay. I think it's really neat that Travis could get outfitted simply by shopping online using eBay. And while I may have no interest in hunting, my experience at the Woodlands resort with Toyota this summer certainly gave me a great appreciation and enthusiasm for skeet shooting.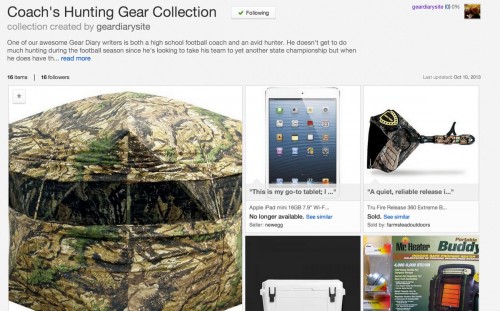 Judie: One of the things I love most about spending time with Dan and his wife Elana (other than the geekery with Dan) is enjoying the amazing food that Elana prepares. Elana attended culinary school, and she is one of those food magicians who can make something amazing from only a few ingredients. Of course, having the proper prep tools helps, and she would be the first to tell you that if you don't have the right tools, you probably won't get the desired results — not without a lot of extra effort, anyway. This collection features kitchen gear that Elana picked out personally; not surprisingly, I have found myself trying to duplicate some of these items in my own kitchen.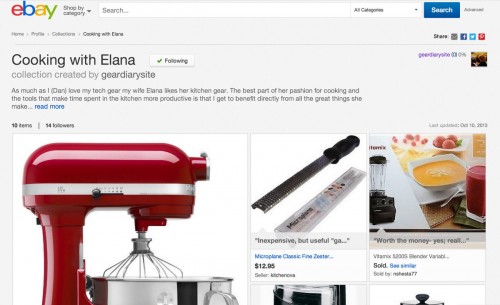 We're really excited to share our collections with you, and we hope that you will have fun checking them out. We would also appreciate it you would follow our Gear Diary eBay user profile, GearDiarySite, as we will be continuing to add to our collections. While looking through our choices, you might find inspiration for yourself or for a great holiday gift! (And you just might be eBay's big winner! Read on…)
In order to follow our user profile, GearDiarySite, click the follow button on our profile …

… and then follow each of our collections by clicking their individual Follow buttons which will either look like this …

… or like this.

To enter the big eBay giveaway, click one (or more) of the social sharing links at the top of our collection pages.

We had a great time creating these collections, and now we are hoping you can help us share our work with others. Doing so is easy, and it may result in you winning a $25,000 eBay shopping spree from eBay.
So get started by logging into your eBay account, and following our GearDiarySite profile. Click each of the 24 collections, and follow them as well; share as many as you'd like on Facebook and Twitter. Finally, when sharing our collections on Facebook and Twitter please make sure that the #FollowItFindIt hashtag is included in your share, because that's the way you'll have a shot at winning the $25,000 to use while shopping on eBay.com (!!).
Dan's and my eBay Collections were curated as part of our ongoing collaboration with eBay.