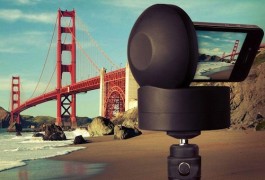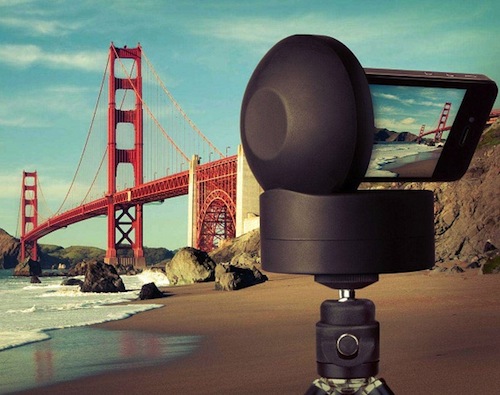 Motrr's Galileo is an iPhone photography mount that allows you to take panoramas, 360-degree photos, or even have video chats, all hands-free.  The gadget that started as a Kickstarter project provides high quality panoramic photos and 360-degree "spheres" that are much better than they would have been if you manually took the photos.  The Galileo sells for $149.95.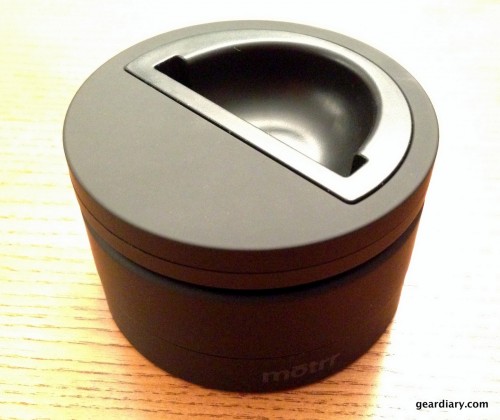 The Galileo mount is an attractive, motorized, and rubberized mount that can automatically take beautiful landscapes and "spheres".  The Galileo comes with a few different mounts that fit different iPhone generations as well as a nice, thick, gray microUSB cable that charges the Galileo.  The top of the Galileo can twist from portrait mode to landscape mode, and the base of the Galileo turns in 360 degrees.  The bottom of the Galileo has a rubber base so that it stands still, a typical threaded mount so that it can be attached to a tripod, and an LED power indicator.  There are a couple of versions of the Galileo: a 30-pin version where the phone actually plugs into the mount and a Bluetooth version.  I reviewed the Bluetooth version.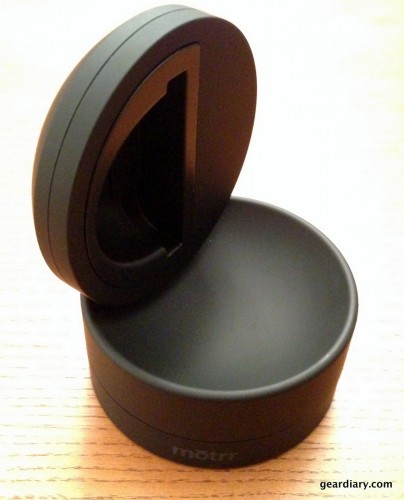 The Galileo is compatible with a list of apps and some of the apps are specific to the 30-pin version of the Galileo.  First, you'll need the Motrr app in order to connect your Galileo to your phone.  Then you can download a host of apps that do different things.  First, and the app I tested the Galileo with, is Sphere, which takes 360-degree photos of your surroundings. AirBeam is an app that turns your iPhone into a remote monitoring system so that you can check in on your home remotely with your iOS device.  CollabraCam lets you record and edit live video from your iPhone so you can direct your camera remotely.  Presence turns your spare iPhone into a free WiFi or cellular video camera.  There are many more apps that do such things as create panoramas, time-lapse photos, and even let you see what your iPhone sees through your Pebble smartwatch.  Of these apps, three of them are for 30-pin iPhone's only.  All of these apps, except for Sphere, are sold separately on the app store.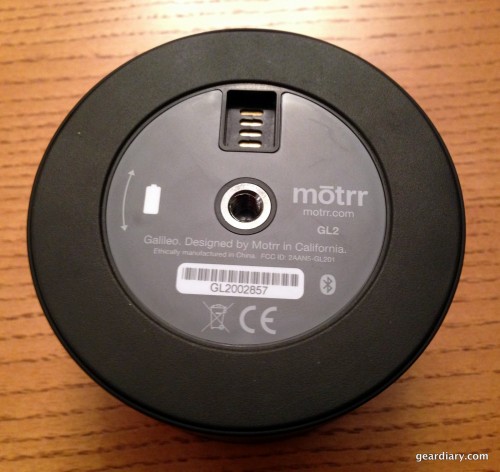 Since Sphere was free, this is what I tested the Galileo with, and it was fairly successful.  Once you connect your phone with the Galileo, you'll need to orient your phone in landscape mode in order to record a "sphere."  All you need to do is set down your Galileo with iPhone connected on a surface or tripod and let Sphere and the Galileo do the rest.  Once recording, the Galileo spins, pans, and rotates taking many photos in order to create one large panoramic 360-degree photo.  After recording, Sphere processes the photos it took and creates the "sphere."  Galileo and Sphere still have trouble with moving objects, as is always the case with panoramic photography, as you'll see in the photo of my kitchen below.  My wife was also in the kitchen, but she apparently moved out of frame in the last set of photos.
As you'll see in the "sphere" above, the quality of the 360-degree photo is pretty good, but items or people who may have shifted while recording are sometimes cut off.  I took a second "sphere" in my living room, below, where you'll see that nothing moved because everything in the "sphere" is clear.
I think the Galileo is a very neat camera accessory; it works as designed and is an attractive mount.  When working with Sphere, the Galileo performed perfectly while automatically photographing my living room and kitchen.  My biggest concern with the Galileo is that the price will be a bit steep for those who occasionally take 360-degree photos or panoramas.  Also, if you want to use one of the home monitoring apps, you'll need to have a spare iPhone sitting around in order to keep it in the Galileo at all times so that you can access it remotely.  Not everyone has a spare iPhone lying around.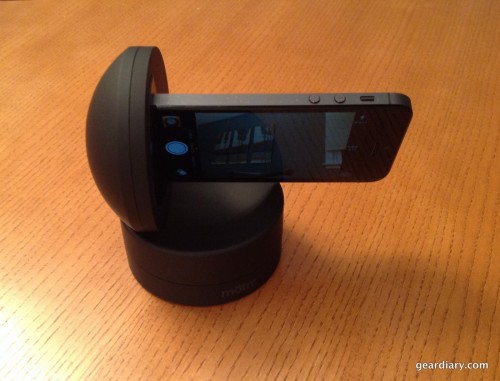 You can purchase the Galileo directly from Motrr.
And… right now… you can save by using the code giftagalileo for 20% off!!
MSRP:  $149.95
What I Like:  Beautiful design; Holds iPhone securely; Automatically takes nice looking panoramas and 360-degree photos.
What Needs Improvement:  Price is a bit steep for the casual photographer; Could use more functionality.
Source:  Manufacturer supplied review sample