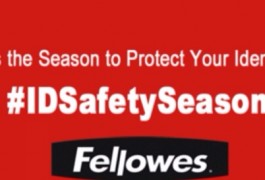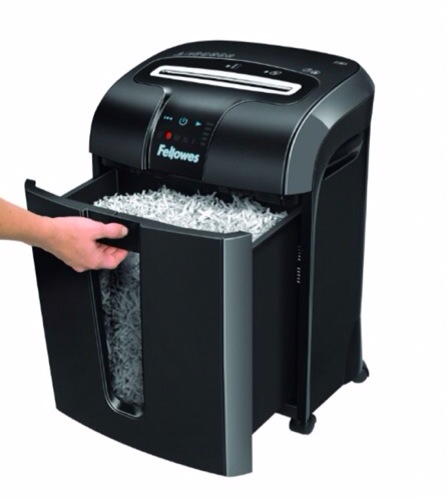 I'm not all that big into New Years Resolutions but there is one resolution we all ought to make… and keep as 2014 begins. That resolution? Doing more to protect our identity and thereby make the job of identity theirs a bit more difficult. Fellowes'Powershred 73Ci is one tangible step toward making and keeping this promise to ourselves.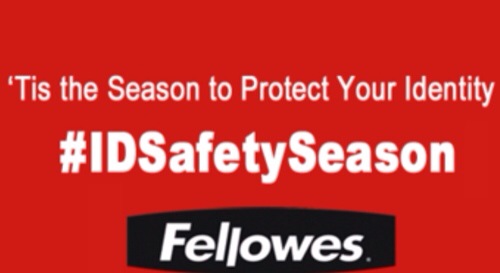 It may strike you as odd that a cross shredder is one of the key elements toward protecting ones identity but it actually makes perfect sense. After all, unscrupulous thieves have refined their craft and are able to harvest little bits of information from various papers and use them to compile enough data to steal complete identities. The easiest way to get in their way is to make sure any paper leaving your house is impossible to read let alone steal data. The Fellowes Powershred 73Ci 100% Jam Proof 12-Sheet Cross-Cut Shredder does just that.
I've been using a Fellowes shredder for the last few years, and this new shredder is the best I have had the pleasure to experience. The physical power button on the back of the Fellowes Powershred 73Ci works in conjunction with the touch sensor on the front. That means the shredder is always ready to shred but isn't always on. Just tap the front panel and the shredder comes to life and is ready to do its thing. Add in a large capacity feeder with a highly accurate sensor that lets you know when the pile of paper you are trying to feed through is too larger and you have a pretty impressive unit. Then there is the shredding capability itself. This shredder makes quick work shredding paper, business cards and more. In my use of it thug at I have yet to run into a situation where the shredder jammed on me. As Fellowes explains,
Protect your personal information with the Fellowes 73Ci 100 Percent Jam Proof Cross-Cut Shredder. Ideal for use in a small office or home office, the 73Ci features three levels of jam prevention for frustration-free operation. It cross-cuts up to 12 sheets of paper in one pass and is tough enough to shred credit cards, staples, paper clips and CD/DVDs. SafeSense Technology automatically stops the shredder when hands touch the paper opening, while Energy Savings Systems saves energy in use–when it matters most. A 6-gallon pull-out bin makes waste disposal simple.

Advanced Jam Prevention: Paper jams are the biggest frustration among shredder users. That's why Fellowes shredders are engineered to take on every job, no matter how tough. The Fellowes 73Ci delivers three levels of advanced jam prevention with the patented 100 percent Jam Proof System. Level One prevents overfeeding by measuring paper thickness via a sensor in the paper entry. Level Two powers through tough jobs caused by wrinkles or folds that may occur as paper is shredding or will auto reverse cleanly. Level Three maximizes productivity by providing instant feedback as to whether or not you are within the recommended sheet capacity (watch the light bar as you feed stacks of paper into the machine).

Advanced Safety: Protect yourself and your family while shredding with SafeSense Technology. The 73Ci features an advanced electronic safety sensor that surrounds the paper entry and automatically disables the shredder when hands touch the paper opening.
The system is small, looks great and is simple to use. Here's a rundown of some of the key features:
100% Jam Proof System that eliminates paper jams and powers through tough jobs

SafeSense® Technology which automatically stops shredding when hands touch the paper opening

A proprietary Energy Savings System that maximizes shredder energy savings 100% of the time – both in use and out of use

Capacitive touch screen controls

Heavy-duty Cross-Cut blades that destroy 12 sheets of paper into 397 particles per sheet, making it extremely difficult to reassemble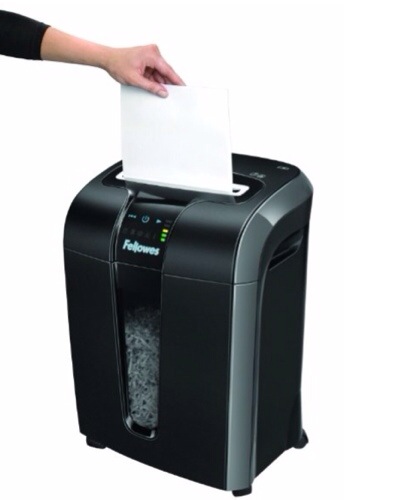 At under $200 the @FellowesInc. 73Ci is an affordable way to make the entire year an #IDSafetySeason. Check it out here on Amazon.