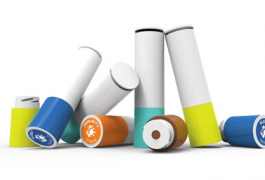 This post brought to you by AeroLife™ . All opinions are 100% mine.
I am one of the millions of people who rely on energy drinks; that's why I was excited to try out AeroLife. AeroLife is "an air-based smart nutrition system that delivers powdered blends of vitamins, supplements, and flavors". I'm kind of impressed. Here's a look and a change to try it for yourself.
The company explains that AeroLife is "patented and reloadable system is uniquely designed to work, fast, anywhere". Basically it is a system of small canisters, some preloaded and others that are a combination of travel mouthpiece and one-use container, that are filled with specially formulated power that comes in a variety of flavors and serve a number of purposes.
To use the system, you place a canister between your lips and draw air through the container. Along the way the air pulls in the small bits of AeroLife product and places them on your mouth. From there, you simply swallow the "tiny quantities of food and nutrients that have travelled through the air to your mouth" and allow the product to do its thing.
The flavors and formulas include
AeroLife Energy in Mint, Raspberry and Watermelon flavors
AeroLife Immunity in Tropical Citrus flavor
AeroLife Sport in Mint Lemonade flavor
AeroLife Sleep in Vanilla flavor
There is also AeroLife Travel which includes Energy, Immunity and Sleep canisters along with a reusable mouthpiece.
Let's run down what each of the main AeroLife offerings include. At the same time it is important to keep in mind that the FREE TRIAL we will discuss in a moment is only available for AeroLife Energy. (In addition, AeroLife Energy is the product currently for sale at aerolife.com while Travel, Sleep, Immunity are available in a pop-up store in Denver Airport, but not online yet.
AEROLIFE ENERGY: STOP DRINKING YOUR ENERGY, START THINKING YOUR ENERGY

Because you always give life 110%, you want to make sure that whatever you are doing, you are applying your best self. So then, why are you still drinking your energy?

AeroLife Energy is an air-based shot of smart energy. It delivers a unique powdered blend of 100mg of caffeine, equivalent to a large cup of coffee, plus B vitamins, that starts working right away to strengthen mental focus—anytime, anyplace.
Strengthens Mental Focus
Zero Calories, Zero Sugars, Zero Liquids
Works. Fast. Anywhere.
100MG Caffeine ≈ 1 Cup of Coffee
100% DV of B Vitamins Per Serving
Natural Flavors – Raspberry, Watermelon, Mint, Coffee
I think that AeroLife Energy certainly beats high calorie/sugar, energy drinks and offers a simpler formula than some of the complex sugar-free energy drinks. It tastes better too.
AEROLIFE SLEEP: SLEEP SMART AND CONQUER.

Life seems to run 24×7 these days, which doesn't leave much time to allow our bodies the time they need to relax, slow down, and sleep. When you do have the chance to rest, you need to help your body make the most of it. AeroLife Sleep delivers a unique powdered blend of melatonin, 5HTP and magnesium citrate to your mouth through the air. Fall asleep faster so you can wake up refreshed, feeling great and ready to take on the day.
For Occasional Sleeplessness
Fall Asleep Faster so you can wake up refreshed
Works. Fast. Anywhere
Melatonin, 5Htp, Magnesium Citrate
Natural Vanilla Flavor
AEROLIFE iMMUNITY: THE BEST OFFENSE IS A GOOD DEFENSE

Getting sick is never any fun. Your body is usually pretty good at fighting off all the nastiness that's out there, but why not give it a little bit of air-based support.

AeroLife Immunity is smart immunity delivering a unique powdered blend of essential nutrients including Zinc, Vitamin C and Vitamin D. So play the defensive strategy and stay on top of your game.
Essential nutrients for well being.
Supports healthy Immune system
Zero Calories, Zero Sugars, Zero Liquids
Works. Anywhere.
100% DV of Vitamin C
Natural Tropical Citrus Flavor
AEROLIFE TRAVEL: A LITTLE SOMETHING TO HELP YOU MOVE, SHAKE AND RAINMAKE

Here's a selection of smart nutrition custom designed for all you modern day road warriors out there. In this travel ready pack you get a recyclable mouthpiece and three AeroPods with delicious and unique powdered blends of our immunity, sleep aid and energy boosts. Whether it's a plane, train or automobile, AeroLife is a truly revolutionary way to help you be well, be rested, and be on.
Immunity: Supports Healthy Immune System
Sleep: Fall Asleep Faster So You Can Wake Up Refreshed
Energy: Strengthens Mental Focus
Zero Calories. Zero Sugars. Zero Liquids
Works. Anywhere.
Flavors – Energy – Mint, Immunity – Tropical Citrus, Sleep – Vanilla
I received a sample knit of AeroLife and have been trying it over the last two weeks. I'm actually pretty impressed; I prefer using the AEROLIFE ENERGY to 5 Hour Energy. It is smaller to carry, easy to use, and it tastes better than the aforementioned product. The flavors are good but, in some cases, a bit strong. And of all the products AEROLIFE offers I think SLEEP is my favorite flavor. And while it is unscientific, I will say that the night I tried it I fell asleep faster than usual and had a decent night's sleep. I can't say AEROLIFE SLEEP was entirely responsible, but I do know that is not normally the case.
As a result I can confidently share this marketing rundown…
The AeroLife is
Effective – It Just Works. Plain And Simple
Instant – Quick To Use. Quick To Take Effect.
Convenient – Anytime, Anyplace
Portable – Small, Light And Pocketsized
Radically Simple – Only The Smart Nutrition You Want
Zero – Calories. Liquids. Sugars.
On-Demand – Your Body. Your Terms.
Control – Use As Much Or As Little As You Like
…even if this marketing statement is a bit overdone…
Like a smart phone of personal nutrition, now you have customized "apps" for every need in your day. Beautifully designed to fit seamlessly into your life, with minimal impact to your body and to the world around you.

If you use Energy Drinks or sleep aids you might want to try AEROLIFE for free. Start your free trial now.
FOOTNOTE: Many may ask if the product is safe. Here's what the company has to say-
All the AeroLife products in this package are legally approved, have gone through both microbiological testing and content uniformity, have strong structure-function statements, are compliant with the Dietary Supplement Health And Education Act of 1994 (DSHEA) and have a robust claims support dossier. In July of 2012, we went through a robust review of our scientific data, our technology and our Energy product with the FDA. Following the review we received a closeout letter from the FDA saying the agency is "satisfied" that the company has addressed concerns about the new air-based delivery system. The letter clears the way for AeroShot Energy to go on sale in 20,000 stores nationwide this month.

AeroLife complies with all FDA dietary supplement regulations. When used in accordance with its label, AeroLife Energy provides a safe amount of caffeine and B vitamins for ingestion. Caffeine has been proven to offer a variety of potential benefits for healthy individuals when consumed in moderation, from providing energy to enhancing attention and focus.

AeroLife does not enter the lungs due to the large size of the particles that make up AeroLife's powder. The powder in AeroLife reaches your mouth where it is swallowed and ingested.