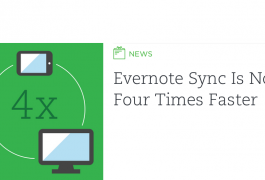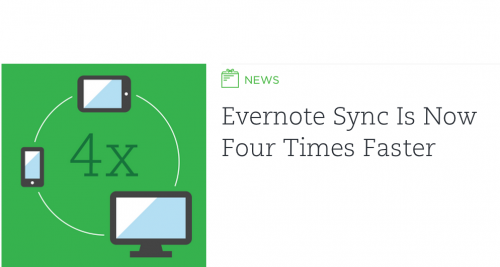 Have you become addicted to using Evernote for your paperless note taking? If you have a notebook (or 100) of any size you might have noticed that the time it takes to sync seems to stretch out longer with each bit of information you've been storing. Evernote today announces new sync engines which they claim make sync 4x faster.
According to a blog post by CEO Phil Libin:
The complexity of sync depends on five variables:
The number of notes in your account
The average size of resources (images, PDFs, files)
The number of users simultaneously syncing on the same server
The number of devices you use
The amount of collaboration with your notes and notebooks
Each of these variables has grown dramatically in recent years.
When we originally designed the architecture, we only had to support a few thousand, mostly single-device users, taking text notes for themselves. Now, we have tens of millions of users, most using multiple devices, storing and sharing notes, photos and documents.
Our infrastructure has grown from a dozen servers to more than 700 in multiple data centers. Our original sync architecture has held up reasonably well throughout all this growth, but we knew it wouldn't last forever.
About a year ago, we started a fundamental redesign of our server-side sync engines to make sure sync will be great for decades to come. We set four important requirements for how we could achieve this goal:
There should be no significant disruptions to the service and that all data would be preserved.
The transition should be completely transparent to our users, so all Evernote and third-party apps would be able to use the new sync engines without requiring any upgrades.
There should be significant improvements to performance when the new system goes live.
We would set ourselves up for fast and reliable service for years to come, factoring in the rapid increases in mobile usage, wearable devices, larger images, video and collaboration that we expect in Evernote.
First, our Service team completely re-engineered the way that Evernote synchronizes your notes. After that, we migrated every single note, resource and bit of metadata onto the new sync platform. We also upgraded the hardware on some of our older servers. Then we tested. And tested. And tested some more.
Finally, we flipped the switch.
Well, not all at once. Some of our servers having been running the new sync engines for weeks and others have gone back and forth between old and new to make sure both systems performed client-facing operations correctly and identically.
As of now, all Evernote servers are running the new sync engine. There is much rejoicing.
The Results
Synchronization is now about 4X faster than ever before. This applies to any version of Evernote that you use. Sync now often takes a couple of seconds to complete, and when you get a new phone or computer, downloading your notes will take much less time. If you have a small account, you might not notice that much of a difference. On the other hand, if your account is large, or you've been using Evernote for many years, or you share notebooks with other users, or your entire company uses Evernote Business, you'll see massive improvements. All four of these things happen to be true for many early Evernote employees, so the performance gains we're seeing at the office are amazing. That explains the rejoicing.
via: Evernote Blog