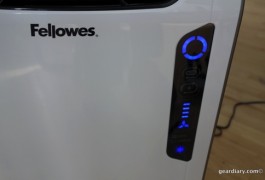 This post brought to you by Fellowes . All opinions are 100% mine.

Most winter days are spent inside with the windows and doors closed, which increases the risk of catching a cold or the flu. And while washing hands and disinfecting surfaces helps, it isn't enough; keeping the air clean can play a big role in keeping you healthy. The new Fellowes AeraMax™ DX-55 is here to help!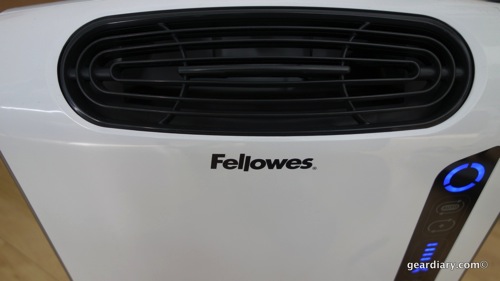 The problem:
Washing hands and disinfecting indoor surfaces is not enough
Indoor air is up to five times more polluted than outdoor air.
Our homes are teeming with airborne germs and viruses, the leading causes of cold and flu.
That means, on average, Americans spend 90 percent of their time indoors where the air is up to five times more polluted than it is outside.
And while a majority of Americans (75%) believe that indoor air is more polluted than outdoor air only 13 percent of American adults use an air purifier as part of their cold and flu prevention arsenal.
But wait… There's more.
It turns out airborne germs and viruses can live longer and spread farther than most of us might imagine. For example, the flu can spread to people up to 6 feet away. And that's without a sneeze or cough to propel it. Then, after a cough or a sneeze, some viruses stay suspended in the air for hours before landing on surfaces. And when they do land? According to Fellowes can live for up to 24 hours.
Feeling a bit sick yet? Yeah, when I first read these statistics (supplied by Fellowes) I did too. So if that is the problem what is the solution? You might want to try the Fellowes AeraMaxTM Air Purifiers. I was sent one as part of this post, and I'm pretty impressed. The unit is relatively small, surprisingly quiet at the lower settings and simple to use.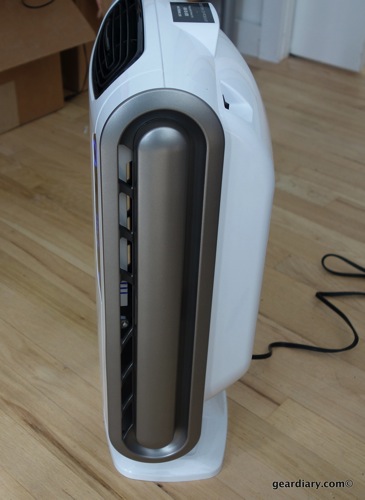 As part of the introduction of the new AeraMax Air Purifier Fellowes released their 2014 Cold and Flu Report. In it they recommend a 4-step process if you are hoping to reduce cold and flu season risk in the home:
1. Ask about a flu shot
2. Wash and sanitize hands regularly
3. Wipe down surfaces with powerful disinfectants
4. Purify the air indoors
The first three are pretty obvious. The last however is something I hadn't really considered in connection to flu and cold season. Sure, when I was dealing with asthma and allergies a few years ago I had an air purifier in my study at work but I never considered how important it might be to have one at home.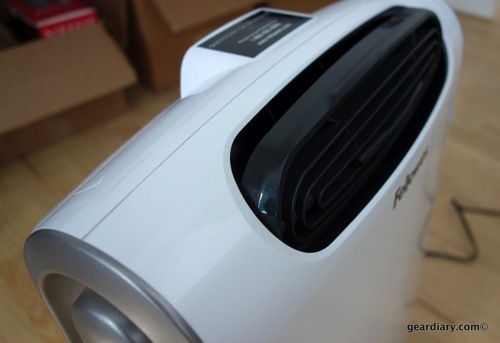 Then I was sent a Fellowes AeraMax Air Purifier as part of this sponsored post. I'm impressed. The unit is small. It is simple to use. And it is relatively quiet on the lower of the four fan settings. The higher setting do result in a more "present" noise but it isn't too loud and it certainly isn't unpleasant.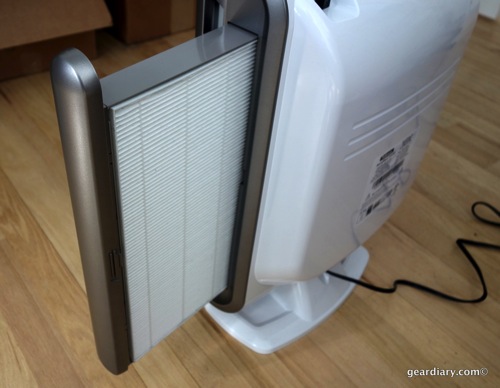 Fellowes points out that
only a true HEPA filter can safely remove 99.97% of airborne particles, including viruses, germs, dust, mold, pollen, ragweed, pet dander and cigarette smoke.
The Fellowes AeraMax DX55 has one. Replacing it is as easy ad pulling the side tray out, placing a new filter in the tray and pushing it back in. In my rush to start using the AeraMax DX55, I neglected to pull the tray out and remove the plastic placed there to protect the filter during shipping. When you get yours make sure to spend the ten seconds it takes to do so!
Fellowes wanted to release an air filtration line that was proven to make a difference. That's why they went so far as to make sure the Fellowes AeraMax DX55 comes with certifications from the Association of Home Appliance Manufacturers (AHAM) and the California Air Resource Board (CARB), Certified asthma & allergy friendly™ by the Asthma and Allergy Foundation of America (AAFA), UL Listed and Energy Star-Certified.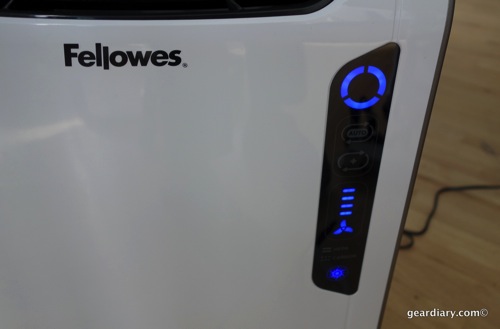 The Fellowes AeraMax DX55 Air Purifier features
Ultra Quiet operation
Automatic filter change indicators
Automatic sensor that monitors the air quality and automatically adjusts the fan speed to keep your air purified
User-friendly touch screen technology with back-lit performance LEDs
It purifies air in medium rooms up to 195 square feet, and features an AeraSmart Sensor that monitors the air quality and automatically adjusts the fan speed to keep air purified. It is truly a product you can "set and then forget".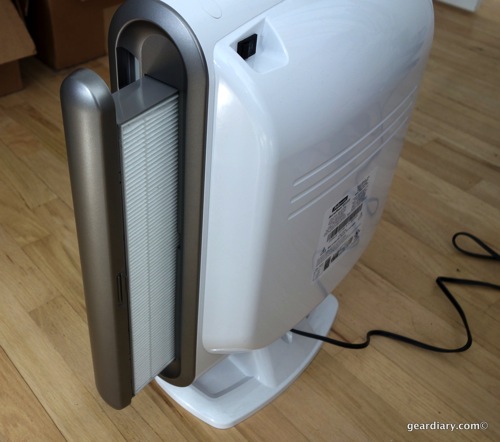 The "HEPA filter with AeraSafe antimicrobial treatment" removes 99.97% of airborne particles as small as 0.3 microns. That includes pollen, ragweed and other allergens, viruses, germs, dust mites, mold spores, pet dander and cigarette smoke. Particularly relevant to cold and flu season is the fact that the filter is extremely effective at capturing influenza virus from indoor air. This may sound like marketing hype but it has been independently tested and verified.
In other words you pull the system out of the box, remove the plastic protecting the filter that ships with it, plug it in and use the touch controls on the front to turn it on. From there you can select one of four fan speeds or set it to Auto, and let it decide how quickly the fan needs to run. The unit will even let you know when it is time to change the filter.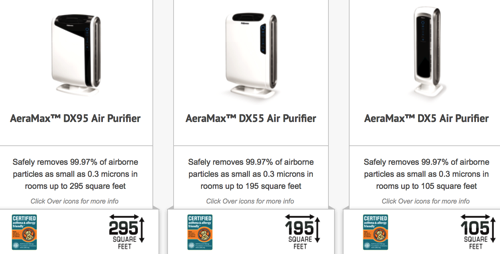 I'm quite impressed with the Fellowes AeraMax DX55. It is small in side, simple to use, and I DO notice a difference when I have it running in my home study. And thanks to the small size, light weight and the handle built into the back of the unit, moving it from one location to another is simple. My only complaint is that the DX55 is designed to work in rooms up to 195 square feet. That's perfect for my home office, but not nearly the right fit for our master bedroom which is almost double that. The good news is the company offers an AeraMax DX 95. It works in room up to 295 square feet, and it should be more effective in our bedroom. Looks like I'm going shopping!
You can learn more about the Fellowes AeraMax and its technology here. BestBuy.com has the Fellowes AeraMax DX5 here for $159.99 and the DX55 here for $229.99.