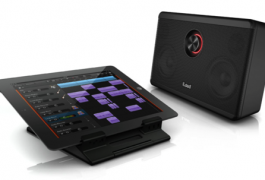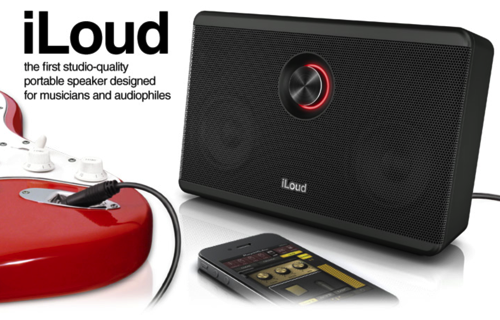 We've teamed up with our friends at Technabob and IK Multimedia to bring you an awesome giveaway. We've got an iLoud portable speaker up for grabs and five codes for IK Multimedia's GrooveMaker 2 for iPhone/iPad. Check it out! The contest starts now; Groovemaker 2 winners will be announced every few days, and the iLoud winner will be chosen on March 19th.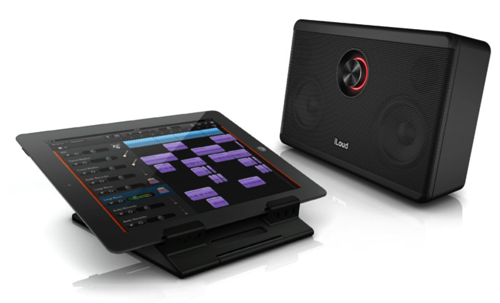 The grand prize will be one IK Multimedia iLoud portable speaker and a code for GrooveMaker 2 for iPhone/iPad. Mike A. loves the iLoud portable speaker he received for review, and he offered his first impressions here. He dug a bit deeper into it here, and has repeatedly mentioned that he not only continues to use the review sample, but he is more and more impressed with it.
As the company notes:
While there are hundreds of portable speakers in the market, none of them were developed with musicians in mind – until now. Meet iLoud – the first portable speaker for musicians. We've created a portable speaker that combines superior power with spectacular audio resolution and amazing low end. And with over 16 years of pro-audio engineering expertise plus our position as the leading developer of mobile music-creation apps and accessories, we know what we're doing. For the first time, musicians can have a portable speaker that sounds like a studio monitor, and allows them to create high-quality compositions and accurate mixes on the go.
The iLoud speaker offers:
40 W total musical power – twice as much as comparable size speakers
Superior low frequency extension and sound accuracy
Bluetooth and stereo analog line input
Battery powered with auto standby, 10 hours normal usage
iRig input for guitars and dynamic mics for iPhone/iPad processing
Highly portable – easily fit in a laptop bag or a backpack
Ideal for music reproduction and music creation
Here's Mike's video look.
But we've got more to give away in our iLoud/GrooveMaker 2 for iPhone/iPad Giveaway!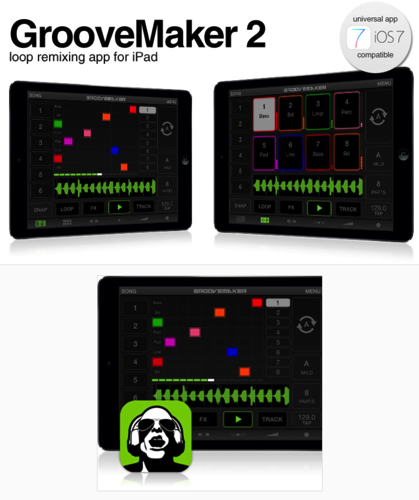 In addition to the grand prize, we have four codes for IK Multimedia's GrooveMaker 2 for iPhone/iPad app. I downloaded the free version this morning and played with it a bit. The app truly is "loop remixing taken to a whole new dimension" and I can only begin to imagine what it can do in the hands of someone  who — unlike me — has actual talent. As IK Multimedia notes:
GrooveMaker 2 for iPhone/iPad is the evolution of the revolutionary iPad app designed to create non-stop electronic, dance and hip-hop tracks, in real-time, by anyone, anywhere, with results that sound like they were produced by a professional DJ.
With GrooveMaker 2 for iPhone/iPad you get:
Completely redesigned interface with minimalistic iOS7 style and gestures integration
New single application allows you to have all your loop collections in one place via in-app purchase (any GrooveMaker 1 loop packs you bought previously are unlocked and useable in Groovemaker 2 upon registration)
16 packs available for in-app purchase (3-5 "songs" per pack) for 70 total songs in styles such as EDM, DubStep, House, Hip Hop, Techno, Trance, Electro, D'n'B, Reggae, Reggaeton, Rock, plus artist's packs
New Matrix interface allows for simplified loop remixing – even by drawing
More flexible management of the Randomix algorithm
Durations of single loops can now be freely set
Durations of saved grooves can be freely set between 1/2 bar and 8 bars, and dramatic rhythmic effects created by pressing quarter-note to 32nd-note division buttons
16 FX with automation and touch-pad-like interface
IMPORT functions allow you to easily import audio files or record your own and integrate them within the existing collection
New high-quality time-stretch for seamless groove tempo variation from 50% to 200% of original BPM without affecting the pitch
Real-time recorder of your remixing performance
Master control with Compressor, EQ and Filter
Sharing features include Audio Copy, E-mail, Wi-Fi, FTP, SoundCloud
Compatible with Audiobus, Inter-App Audio and X-Sync
We have four copies of the app, and we will give away two of them on March 10th and then two more on March 15th. The winner of the IK Multimedia iLoud and GrooveMaker 2 for iPhone/iPad app will be announced on March 19th.
Here's how you can enter.
a Rafflecopter giveaway