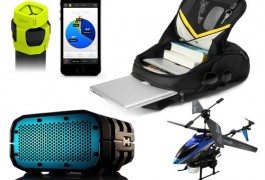 We promised that March would be a great month of giveaways and we are delivering on that promise. Our March Madness Review Sample Giveaway is underway. Our Sir Lancelot Screen Protector Giveaway is too! Now we've teamed up with our friends at The Awesomer for another great giveaway. This prize package is worth over $500! Read on for details.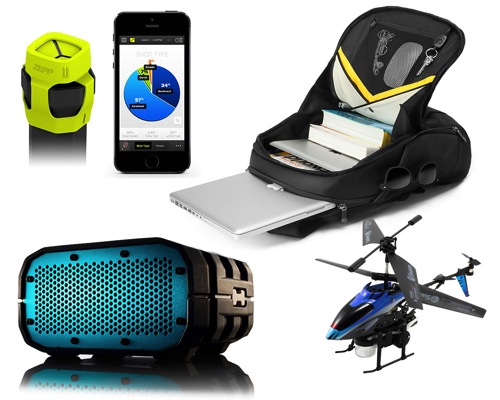 Check out all four prizes and then enter to win!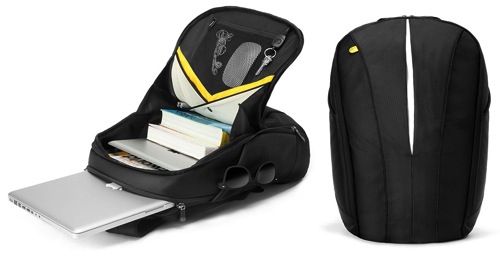 Giveaway Item #1: Booq Boa Shift Bag
We love Booq bags and the Boa shift just look plain cool. It offers a great design, Booq quality and plenty of room to carry all your gear.
Laptop? It's ready to protect it in a separate compartment with thick padding.
Tablet? There's room for that too!
Smartphone? There a special quick access pocket.s built into the shoulder straps.
Tons of other stuff? There's plenty of room and multiple diagonally overlapping interior accessory pockets.
And if you have small items the included accessory pouch will come in handy.
Boa shift is one cool character that rides with you through every shift in your busy lifestyle. Lightweight, roomy, and filled with smart design solutions, each and every construction detail achieves a feat greater than the sum of its parts: And that's to impress you, even after years of daily use.
We've reviewed numerous Booq products and have been impressed with each. This backpack packs in all of their experience. As the temperatures warm up and you spend more time outside this will come in handy. There's much more to this impressive backpack which combines great looks with a practical design that will keep you organized on the go.
Learn more here.
Value: $150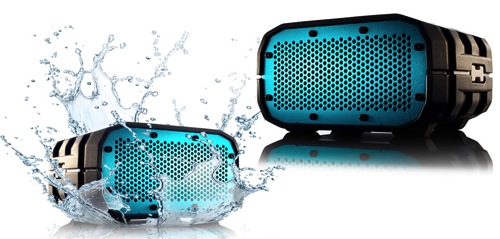 Item #2: Braven BRV-1 Speaker
Love you music and the outdoors? The BRAVEN BRV-1 is for you. This speaker offers 12 hours of music and is IPX5 certified water-resistant, shock absorbent, ultra-lightweight and compact. Small enough to go with you no matter where your adventure leads, this palm-sized speaker puts out big sound so you can rock out… While you rock climb.
Learn more here.
Value: $149.99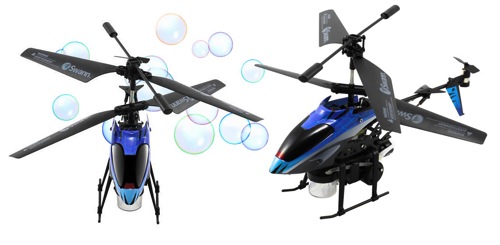 Item #3 Swann Bubble Bomber
Ready to take to the air? Want to get into "combat"? Swann's Bubble Bomber RC Helicopter is the remote controlled copter for you! The Bubble Bomber remote-controlled helicopter uses a powerful 2.4GHz wireless transmission so you'll stay in control. The video game-styled controller offers dual joysticks and trim control so you determine the flightplan. And since the copter is designed with Swann's "Easy-Fly Gyro technology" it is surprisingly easy to fly. And as for the combat thing… With the push of a button on the remote the Bubble Bomber can dump bubbles on unsuspecting targets. No matter how old you might be this is a great way to have some fun as the weather warms up.
Check out all of Swann's RC products here.
Value: $87.59

Item #4: Zepp Tennis Sensor
Bring your Tennis game into the 21st century with the Zepp Tennis Sensor.
For the first time in the history of tennis, now you can get instant feedback about your performance on the court. Track your matches and practice sessions and discover your playing style.
The Zepp Tennis Sensor…
captures, measures and analyzes your swing in three dimensions and records 1,000 data points per second.
was designed to stay out of your way so that you can swing like you normally do. You won't even feel it.
tracks the amount of forehands, backhands, serves and smashes you hit during your matches and practices.
shows you how much power you generate with each stroke and see your trends for an entire match or practice session.
tracks how many topspin, slice and flat shots you hit by forehand, backhand and serve.
tracks the total amount of time you spend on the court and the active time you spend playing points.
If you love tennis and want to become a better player this gadget is for you!
Learn more here.
Value: $149.99
We're giving all this great stuff away to one luck winner and there are numerous ways to enter. The contest starts now and will end at 11:59pm Central on Friday April 4th. You can get started here…
a Rafflecopter giveaway