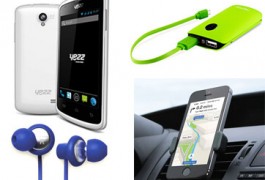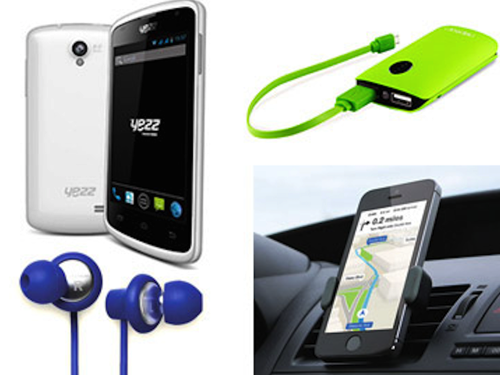 We've teamed up with our friends at Technabob to serve up another great package of prizes. This time out the giveaway contest focuses on helping you stay in touch when you are out and about. It includes an unlocked phone, headphones, an external battery and a car holder. The package is worth almost $250 and will go to one winner.
Here's what's in this Great Giveaway Package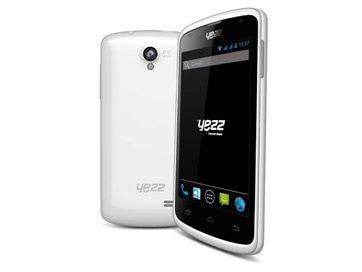 Unlocked YEZZ Andy A4 Smartphone
First up we have an unlocked YEZZ Andy A4 smartphone. The YEZZ Andy A4 has dual-SIM technology so it is perfect if you travel a lot. In addition, this unlocked phone has a 1 GHz Dual Core Processor and 32 GB of memory. Those specs may not blow you away when, for example, compared to the brand new Samsung Galaxy S5 but at an affordable $119 this unlocked, no-contract phone makes a great first, travel or spare smartphone (with zero contracts).
It, however, is just the first part of this spring giveaway.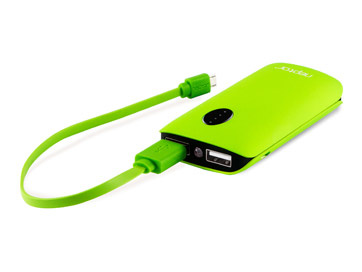 Neptor: Dual Port Portable Battery Charger
Smartphone batteries continue to be the bane of modern life. Our devices require more and more juice and the battery technology simply cannot keep up. That's where the Neptor: Dual Port Portable Battery Charger comes in. This 5600mAh Dual Port Battery Charger is able to power two devices at once. An in-meter battery shows power usage and the smart circuitry offers protection against over-charging. That, in turn, helps extend battery life. The battery even has an LED Flashlight built into it. Available in fun, bright colors like Blue, Red, Purple, Orange, and Green, the battery also ships with a matching cable and lanyard.
The Neptor: Dual Port Portable Battery Charger has an MSRP of $49.99. You can learn more here.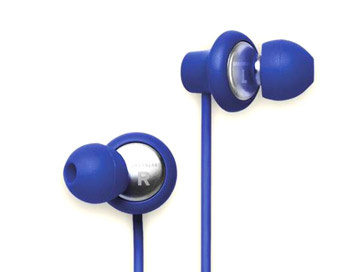 Urbanears: Kransen In-Ear Headphones
If you want to use your phone to listen to music, after all it has 32GB of storage, you'll love these small, "multi-talented in-ear headphone". They anchor securely into your ear, provide high quality audio and more. The Urbanears Kransen In-Ear Headphones feature:
Ergonomic design anchors into user's ear for a secure fit
10mm drivers provide high quality audio
Patent-pending CableLoop allows users to wrap cord and secure in place
SnapConstruction lets users connect earbuds around their neck when not in use
Features remote and mic for hands-free talking, fast forwarding or rewinding music
Available in 10 different colors the headphones have an MSRP of $40. You can learn more, and check out all the various colors, here.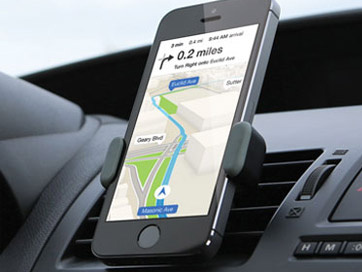 Kenu: Airframe Universal Smartphone Mount
If you are carrying your smartphone and driving it is important that you keep it held securely. The Kenu Airframe Universal Smartphone Mount attaches easily to any car air vent, weighs less than an ounce and features a low-profile design keeps smartphone at eye level without blocking your view. That makes it perfect for use while your phone is serving up GPS navigation, streaming music or letting you make hands-free calls. The mount also features a patent-pending design that uses a rotating clip for horizontal and vertical positioning. The rotating clip also doubles as a travel stand so you can watch movies, play games or chat via FaceTime. Its soft, over-molded grips keeps your car free from scratches and its expandable jaws securely hold smartphones with screens up to 4.8". The Airframe has an MSRP of $24.95. You can learn more here.
The contest begins now and runs until 11:59PM ECT on April 21st. Here's how you can enter the giveaway.
a Rafflecopter giveaway