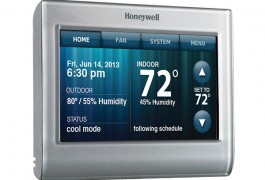 We received the thermostat from Honeywell in exchange for a review and giveaway.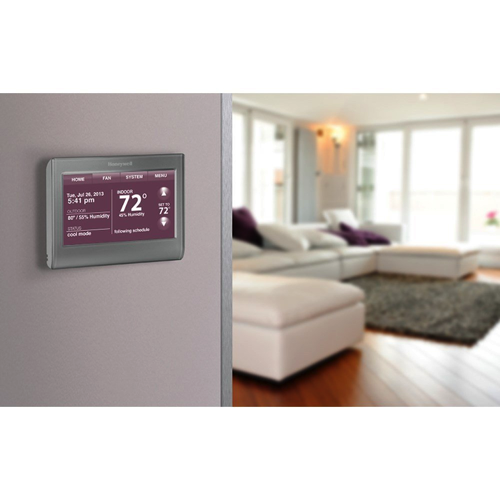 If the price and installation hassle of getting a smart thermostat has made you sit on the sidelines, we've got some great news for you — the Honeywell Wi-Fi Smart Thermostat is easy to use, easy to install, and won't require you to get a bank loan. Better still, we've got a brand new thermostat to give away!
We had a wireless thermostat in one of our four heating zones. Unfortunately the company that produced it decided to discontinue service, so we reinstalled our original, dumb thermostat. I had been looking at competitors when Honeywell approached us and invited us to do a review and a giveaway of their Honeywell Wi-Fi Smart Thermostat. That sounded like a plan.
Because this is a smart thermostat you can adjust and control the thermostat from anywhere so long as you have an internet connection. This isn't a one-size fits all thermostat. You can change the color of the high-definition display and customize it to fit your mood or match your paint. Honeywell even suggests you can set the color to cheer on your favorite team. (When I install mine this weekend I'll have to see if the display can do Blue Devil Blue)
You can use this thermostat as a home or a business thermostat. If used at home, it can be set to bring the heat up before you wake up each morning. If it is used in an office you can set it up to learn when the building is occupied, and it can safely drop the temperature and save on utility bills. The thermostat isn't simply programmable. No, as Honeywell explains:
This smart thermostat even learns your heating and cooling cycle times to deliver just the right temperature, right when you want it. The Honeywell Wi-Fi smart thermostat learns the exact amount of time necessary to reach your perfect temperature and acts accordingly, so energy isn't wasted and your comfort isn't compromised.
Honeywell Wi-Fi Smart Thermostat Promo Video
The Thermostat features:
Control from Anywhere: Honeywell's reliable and highly-rated app allows you to program your thermostat from your computer, tablet, and smartphone, whether you're across the room or around the world.
Simple Setup: Program each day to fit your unique schedule, or select multiple days that have the same schedule to make programming quick and easy.
Customizable Color Touchscreen: The bright, easy-to-read touchscreen can be color customized to fit your mood, match your paint, or support your favorite team!
Smart, Flexible Scheduling: Our Wi-Fi smart thermostat offers flexible scheduling options for the unique needs of homes and businesses.
Smart Response: This smart thermostat even learns your heating and cooling cycle times to deliver just the right temperature, right when you want it.
Advanced Fan/Comfort Control: Improves air circulation and helps regulate the temperature throughout your home
Auto Alerts: Extreme temperature alerts and filter change reminders are sent to your connected network devices and are displayed on your Honeywell Wi-Fi smart thermostat.
Reliable App: This highly rated app is backed by Honeywell's reliable network, for dependable access and peace of mind. Available for iOS and Android devices.
Indoor Humidity Sensor: Your indoor humidity is displayed right below the temperature.
Locking Touchscreen: Advanced locking features and password options provide smart security and convenience.
There is much more to this MSRP $249.99 thermostat and we will dig more deeply into it in our review. For now however you can enter to win your very own thermostat here. Before entering however click here and make sure your home is compatible with the Honeywell Wi-Fi Smart Thermostat.
a Rafflecopter giveaway