Project planning software has been an essential tool in the project manager's and engineer's toolkit for years, but more recently I have seen it used by college students and interns using it at my company for planning out pretty much anything from small projects to organizing schoolwork and more.
Roadmap Planner is a very well reviewed project planning tool, and for the next week KeepSolid is giving away the Mac version for free!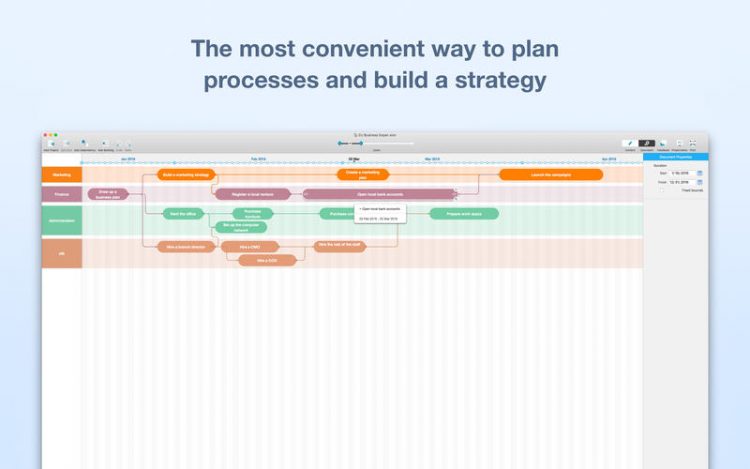 Giveaway dates: August 31, 2016, through September 7, 2016
Here is the description:
Roadmap Planner is your strategic communication tool to build your marketing, business development and product vision roadmap, and show off it to your team and stakeholders at a glance. It will take you where you want to be in one, five, or 10 years.

In our busy environment, every minute counts. You can continue to work with your roadmap everywhere: whether it be high in the skies or while waiting for a flight change, as Roadmap Planner does not require an Internet connection. The app will help you to put together a strategy for your success. Create a simple picture of the vision and development of your business and present it to your team quickly, easily and in a visually appealing form.

Key Features:
• Visual timelines based on Gantt Chart – use the most recognized method of building projects plans.
• Dependencies – build dependencies between different tasks of different projects.
• Predefined templates – use templates for key business processes and develop your roadmap quicker and easier
• Presentation mode – present your ideas and plans in a simple, visually-appealing way.
• Backlog – create a prioritized list of works to drag and drop them to the project section whenever you are ready
• No WiFi or Internet connection required – get access to your roadmap on a plane, train, in a taxi or at the conference with poor connection
• Quicklook – quickly preview the document in a folder, finder or email
I have not spent much time with the software yet, but what I immediately liked was the visual feel and interactivity of the GAANT charts, which look like a hybrid between a traditional project planning tool and a 'mind mapper'. Since the latter has become very popular, it makes this a more visually approachable way to present project information.
Head to the Mac App Store to grab Roadmap planner for free!
Here is an overview video: