T-Mobile today announced a new service named Scam Block. According to them. it will be live for most subscribers beginning on April 5, 2017. The service appears to work similarly to apps such as Hiya, Truecaller and even the updated Android phone app which analyze incoming calls in real-time and display a notification for suspected scam or spam calling.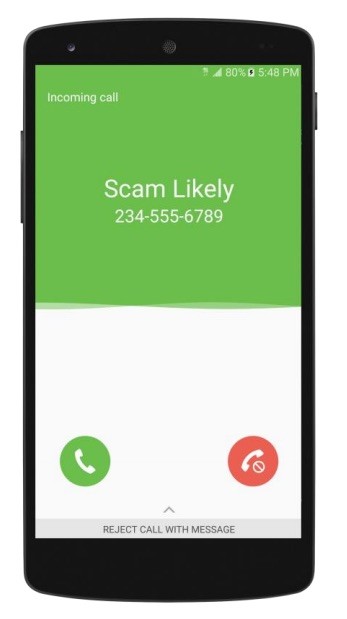 There will be two components to T-Mobile's new service – Scam Alert which simply identifies suspected scam calls and Scam Block which works at the T-Mobile network level and blocks the scam call from ever ringing your phone.
From the T-Mobile press release:
How Scam ID Works
With Scam ID, your incoming call screen will alert you to an incoming scam call by displaying "scam likely". Every time someone calls a T-Mobile customer, as soon as that call reaches the
Every time someone calls a T-Mobile customer, as soon as that call reaches the T-Mobile network, patent-pending technology analyzes it – in milliseconds – against a continuously updated database of tens of thousands of known scammer numbers
When a match is found, the T-Mobile network tags the incoming call and warns the customer that it's likely from a scammer
How Scam Block Works

With Scam Block, "scam likely" calls get immediately blocked on the network so you don't see the calls
If a customer prefers never to be bothered by scam calls, they can simply turn on Scam Block, and T-Mobile will terminate the call before it ever reaches the customer
Because the technology is built into the network, it works no matter where you go in the world on any phone
Customers can also turn off Scam Block at any time—and will again receive calls marked as "scam likely"
How to Get Scam ID and Scam Block
T-Mobile will enable Scam ID for all T-Mobile customers on a rolling basis beginning with T-Mobile ONE customers on April 5
New T-Mobile ONE customers will automatically get Scam ID beginning April 5
T-Mobile postpaid customers can also enable Scam ID for themselves beginning April 5 by dialing #ONI# (#664#) and pressing the call button in their phone's dialer
To turn on Scam Block, dial #ONB# (#662#)
To turn off Scam Block, dial #OFB# (#632#)
To check whether Scam Block is on or off, dial #STS# (#787#)
My Takeaways:
Scam ID is almost identical to what Android users have already by using the existing Android Phone (updated in July 2016)
This is going to work on iOS as well (where I've had more trouble integrating call filtering)
Scam Block should work better than existing apps since it claims to be catching scam callers at the network level
Still unknown – can "caller unknown" or "caller ID blocked" calls be manually set to be rejected. This is likely not going to happen because many businesses with PBX phone systems will legitimately send a "caller unknown".
If T-Mobile has the technology to discover the underlying number of a "caller unknown" and filter based upon it – sign me up!!
Expect this to begin rolling out April 5, 2017, to T-Mobile One subscribers. Later it will arrive for all T-Mobile users.
It's free. The only added charge is if you want Caller Name ID which provides a best guess at the caller name when that caller is NOT in your contacts list.
Want More? Follow Us Here!