I also knew from a previous warranty experience (specifically with the Pure Cool Link Tower) that if anything went wrong in the first two years after I had registered the device, Dyson would take very good care of me. Should the vac fail and require replacement, I'd be sent a brand new device with a new two-year warranty. When you're spending so much on any piece of equipment, it's nice to know that the company will stand behind their products and take care of you. But I digress.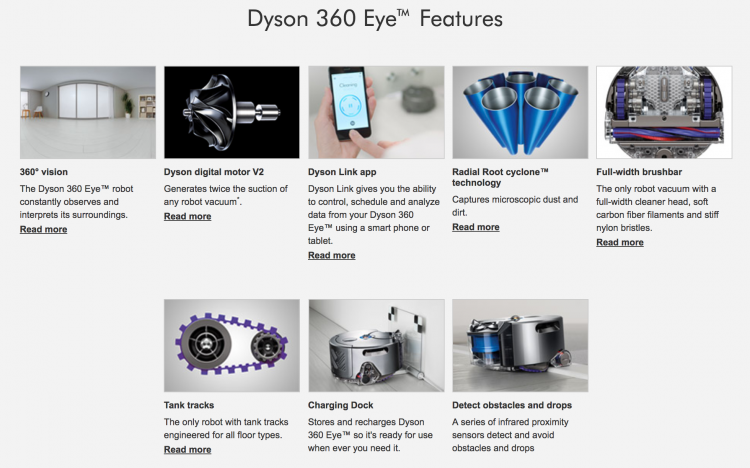 Available in the color combinations of nickel and fuchsia or nickel and blue, I purchased the nickel and blue. The 360 Eye comes in a compact yet thick box; the contents include the robot vacuum, a charging dock, a charging cable, a user manual, a reminder to download the Dyson Link App, and instructions on how to turn off the robot functions not associated with battery charging. I don't recommend this, as it keeps the robot from being able to start a clean or connect to your app, which seems totally counter-productive.
So this is the Dyson 360 Eye Robot. It measures approximately 9.5″ across at the widest point, 10″ deep, and 4.5″ tall. Most other robot vacs I've seen or tried are under 4″ tall and a bit wider, so it's immediately evident that the Dyson may or may not fit under the same things that other robot vacs can. Still, it is slim enough that it may be able to fit into areas others couldn't enter.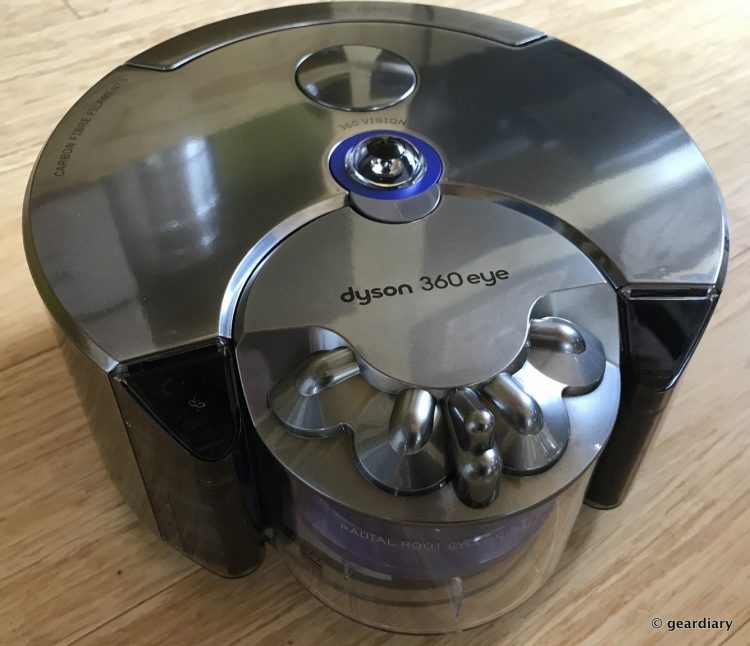 The 360 Eye has track wheels, like a tank's; this enables the robot to climb over uneven floors, door jambs, and even some power cables. There are finger holds on both sides of the robot that you can use should you ever need to lift it.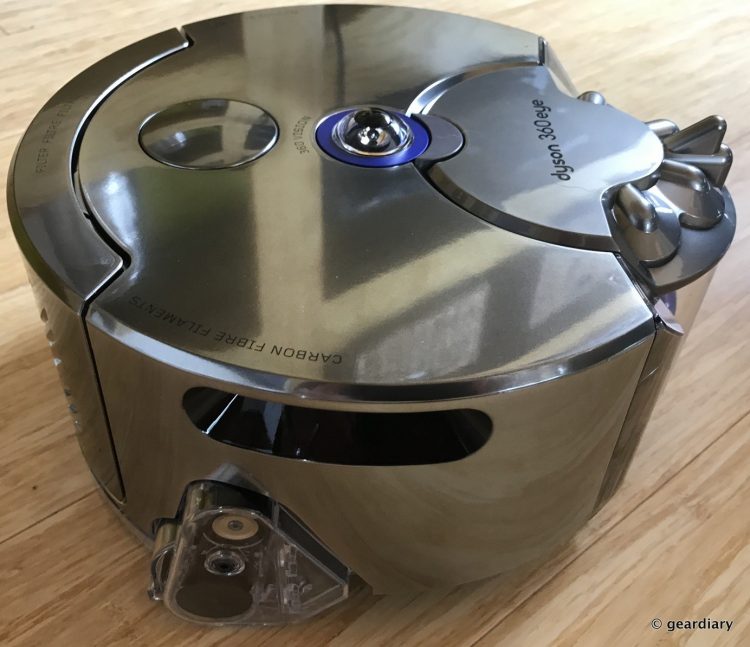 This is a view of the underside; you can see the tank tracks and the very wide beater brush along with several sets of guide wheels and the charging bars.
This is the beater brush after about a month of use. Hair and other stringy items will occasionally wrap around the beater, but because of the grooves, it's no problem to use scissors to snip them and then pull them out. The brush will still work just fine with some hair or string wrapped around it, but it's a good idea to check it about once a month just to keep things in tip-top condition. Other robot vacs I've tried had double brushes that aren't quite as easy to service or accessible for cleaning.