I lucked out: my right window had the exact dimensions of the left, so I was able to add it to my cart twice.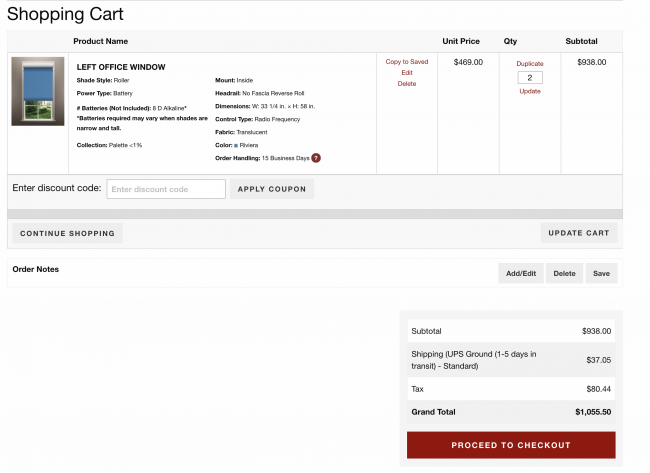 Lutron was kind enough to pick up $800 of my order, so I was fully expecting to pay $255.50, but my final bill ended up like this.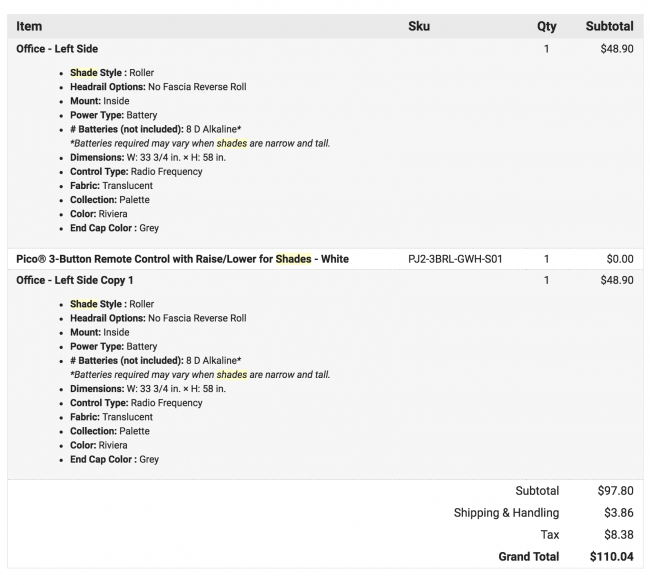 After placing my order, I was told that there would be a wait of approximately 10-20 days for my custom shades to be created and shipped. Fair enough! And then they came in … and I got nervous! What if I had measured incorrectly? What if they didn't fit my windows? What if … what if … Do you ever psych yourself out like that? 😛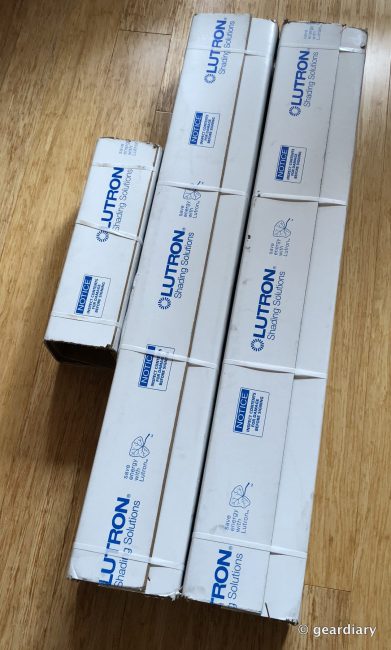 I knew before getting started that I would be enlisting my husband, Kev, to help me do the physical install; he has the power tools. Included in each box were the shade, screws for installation, and instructions for install with instructions for connecting them wirelessly. The smaller box had the remote control that I thought I might need but wasn't sure about.
After consulting the directions, Kev screwed the mounting bracket to the top of the first window frame.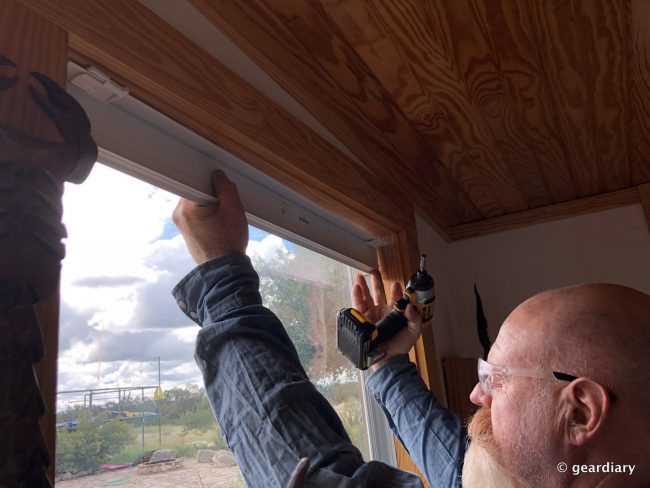 The shade roller locks into the mounting bracket; the cover on the shade holds the batteries and it rotates up or down to give access to the battery compartment.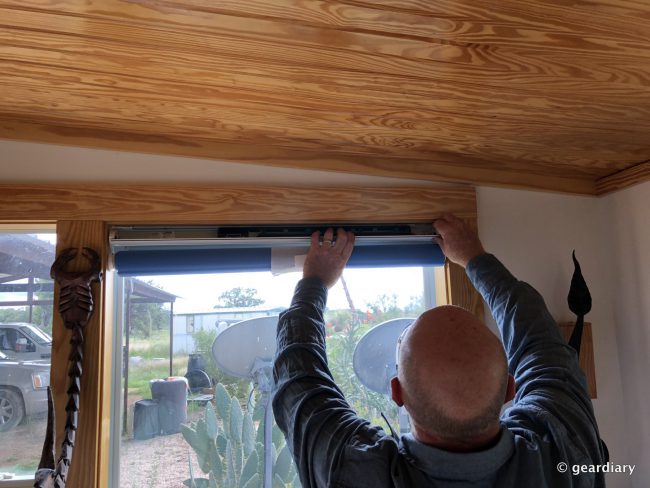 Kev couldn't help himself; he wanted to see what the shades would look like so he pulled them down — only to discover that you can't roll them back up. I figured I'd be able to wind them back up later via the remote or software (I was right), but it's probably a better idea not to do this.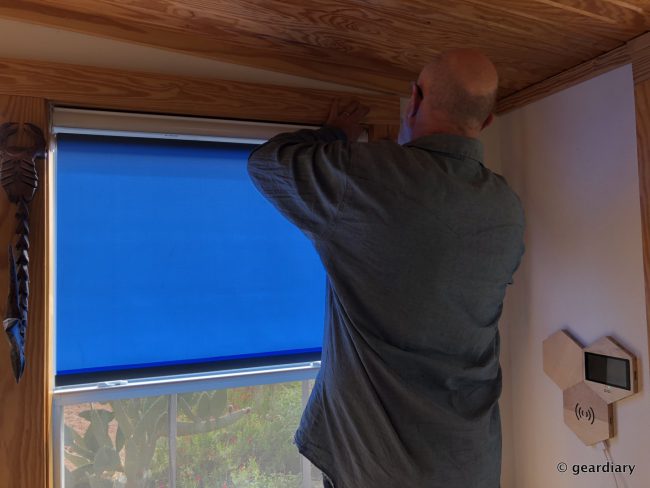 After Kev had installed the second shade, he pulled it down to match. Thanks? 😉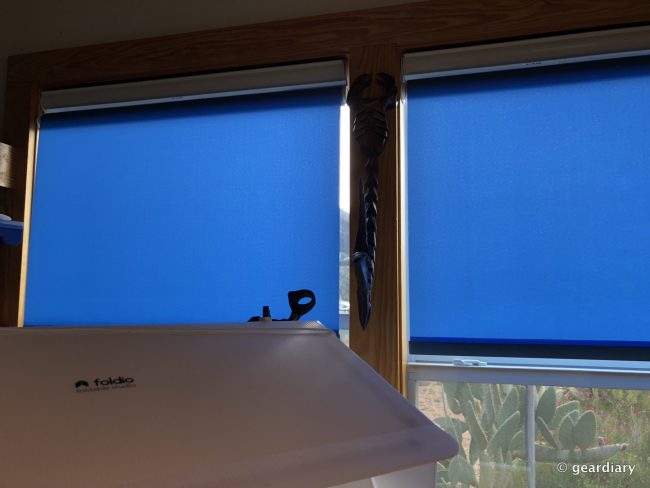 The shades were mounted (very easily, I might add), and now it was time for me to add the batteries. Each side took eight D-cells, but I think this varies depending upon the width of the shade. Once the batteries were slid into their holder, I swiveled the battery cover back up over them. I like that it is easy to open and close the battery compartment, but I still hope I won't have to change them that often. We shall see!
Our patented power technology yields industry leading battery performance with store bought batteries. Battery life depends on the type of shade, the shade size, the fabric selected and the number of times shades are opened and closed each day. That means the shade has the potential to move thousands of times on a single set of batteries.
This is the Lutron bridge. If you haven't installed one before, it's very straightforward; you just plug the microUSB into the bridge and then plug the ethernet cable into the back of the bridge and a free port on your router. I have an eero in my office, so I used one of its empty slots.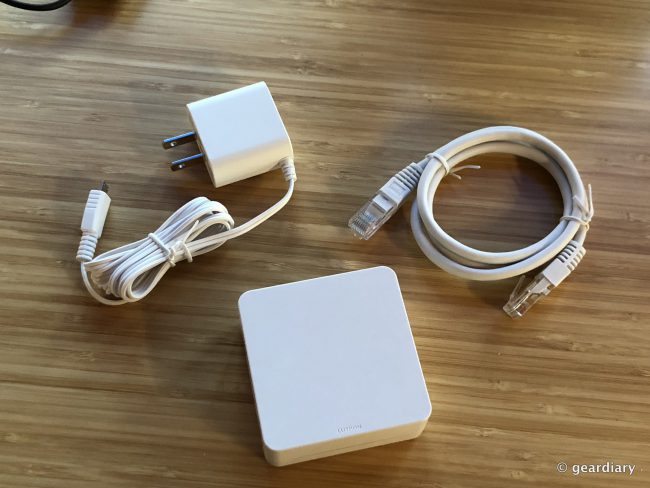 Since I want to be able to use my phone, HomeKit, and Amazon Alexa to control my shades, I downloaded the Lutron Caseta app and started setting things up. I had to create an account with Lutron, and then install an update.
Now comes the fun part — adding a device. Select shade/drapery, and go from there.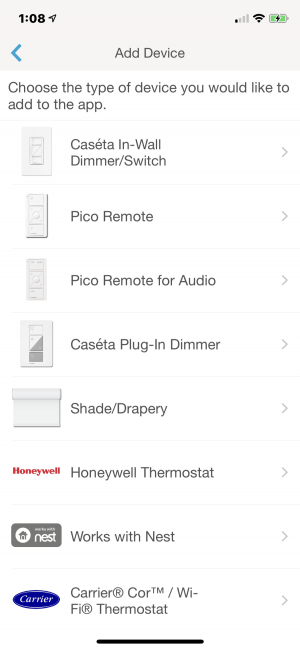 You'll add each shade individually. There's a little clear button on the right of each shade that has to be pressed for pairing; that's probably the most difficult part of this process. By the time you've done it twice, you'll be an old pro.
Now I had both shades added, but remember they were hanging half open? I needed to get them set right and then set upper and lower limits.