Nomad makes some of our favorite mobile device accessories; their cables, cases, and chargers are among the best we have reviewed, and their iPhone 11 cases are some of the nicest we have seen. Now Nomad is running an amazing giveaway contest that could have you rocking a new iPhone 11 AND some great Nomad gear. Read on for details.
Nomad's iPhone 11 Pro giveaway started today. They have some great gear to give away, and they are making it as simple as possible to enter to win. If you are over 18 years old and live in the United States you can enter here.

So what is Nomad giving away? How do three iPhone 11 Pros and over $2500 in Nomad store credits sound?
The prized break down this way:
Grand Prize Winners: There will be three grand prize winners. Each will receive a $1k Apple gift card to use toward their iPhone of choice and a $200 Nomad gift card. That's a grand prize of $1200. More than that, it is a new iPhone and some great gear to make it even better.
Runners Up: Ten runner-up winners will each win a $200 Nomad gift card.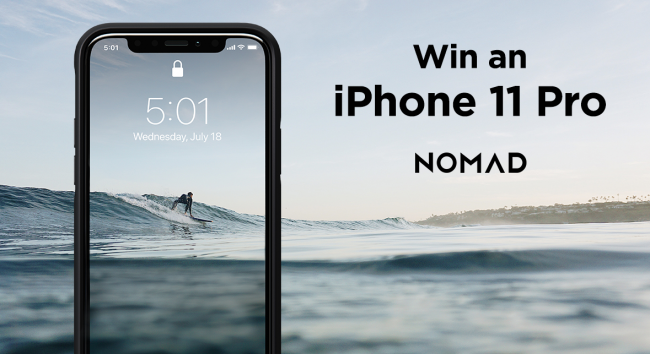 For those keeping track that means there are thirteen chances to win. So what are you waiting for? Click this link and enter!