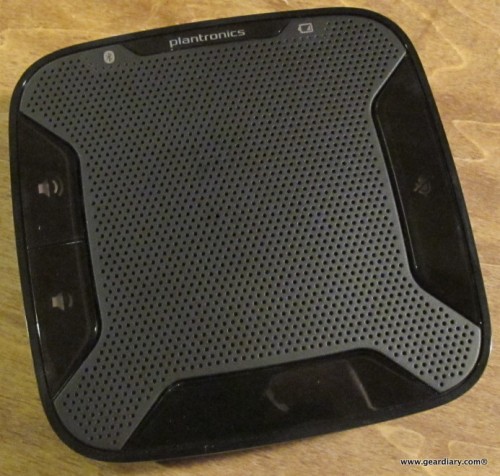 I was already working on this review of the Plantronics Calisto 620 portable wireless UC speakerphone when I went to Florida for the day and found myself using it. That experience alone was enough for me to give this Bluetooth speakerphone a rave review. It was small and light enough that I easily carried it in the small carry-on bag I used during the trip. And it was so simple to set up that I didn't even have to stop showing the video I was sharing with people with whom I was meeting. They said, "Dan can you make the audio louder?" I pulled out the Plantronics Calisto 620, turned it on and a few seconds they could hear every word perfectly. They were impressed. So was I. Let's take a closer look at the speakerphone.
Plantronics makes clear that they designed the Plantronics Calisto 620 for Portability. They succeeded as the speakerphone is small, light and comes with its own carrying case.
In addition, since the review sample of the Plantronics Calisto 620 I received includes the Bluetooth USB adapter is easily and safely stowed in the bottom of the speaker itself. Plantronics also notes that the Plantronics Calisto 620 is the "perfect tool for impromptu conference calls". My experience in pulling it out and getting up and running confirmed this to truly be the case. Better still, the Plantronics Calisto 620 is designed to work with both your laptop and your smartphone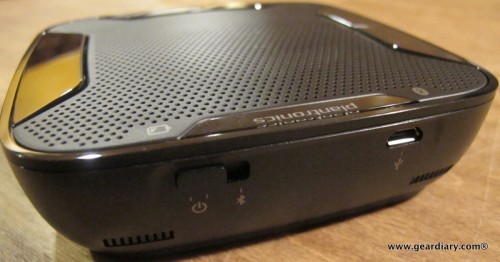 The physical design of the Plantronics Calisto 620 is one of the reasons it is so easy to use. The speakerphone has a physical on/off switch that also functions as a pairing button.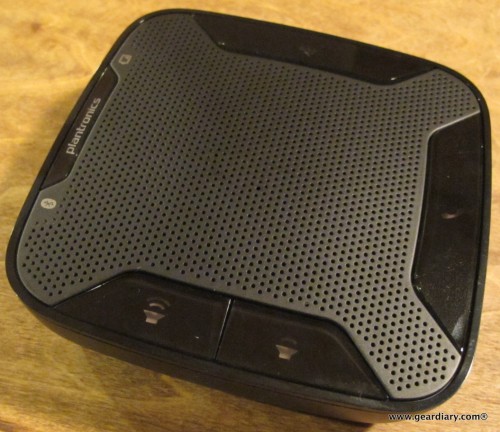 The volume controls, call button and mute are also physical buttons that give satisfying that lets you know you have actually activated them. Unless a touch button has haptic feedback that is not the case on devices that have moved away from physical buttons.
The Plantronics Calisto 620 offers full duplex, 360° audio and Bi-directional microphones that activate toward the individual speaking. That means the speaker's voice is picked up, not the ambient background noise in the room. When using the Plantronics Calisto 620 with the included adapter the speakerphone offers PC wideband audio and Digital Signal Processing (DSP) that help reduce drop-outs. The acoustic Echo Canceller helps eliminate echoes when speaker with people.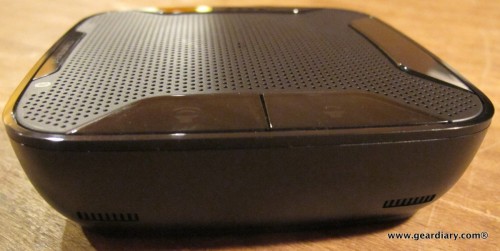 The Plantronics Calisto 620 also offers integrated A2DP. This will let you use the speakerphone to listen to media streaming from your mobile device. This was the functionality that was so helpful down in Florida!
The Plantronics Calisto works with both Windows or Mac OS, is just 4.33" w x 4.33" h x 1.26" d and provides up to 7 hours of talk time and up to 5 days of standby time.
Spokes Software
The free download of Spokes software adds value to the Plantronics Calisto 620 speakerphone. The software, available on both operating systems, supports both Skype and IBM Sametime. Spokes for Mac enables remote call control and synchronized mute across multiple soft phones. In addition, it adds battery meter showing remaining battery life and a control panel that lets you customize settings such as call notifications.
I'm impressed by the Plantronics Calisto 620 portable speakerphone. It works well, offers good audio quality and is simple to use. The included carrying case and "home" for the Bluetooth adapter are nice touches on a device that is great to keep with you all the time. Check them out here: Plantronics Headsets and Accessories
.
MSRP: $149.99
What I Like: Easy to set up and use; Good audio quality; Includes Bluetooth adapter and carrying case; Spokes software is a free download; Excellent performance for people who work on the go
What Needs Improvement: You will have to decide between this and the Jabra Speak 510. Keep an eye out for our head-to-head between the two products
Source: Manufacturer supplied review sample
This slideshow requires JavaScript.
Want More? Follow Us Here!