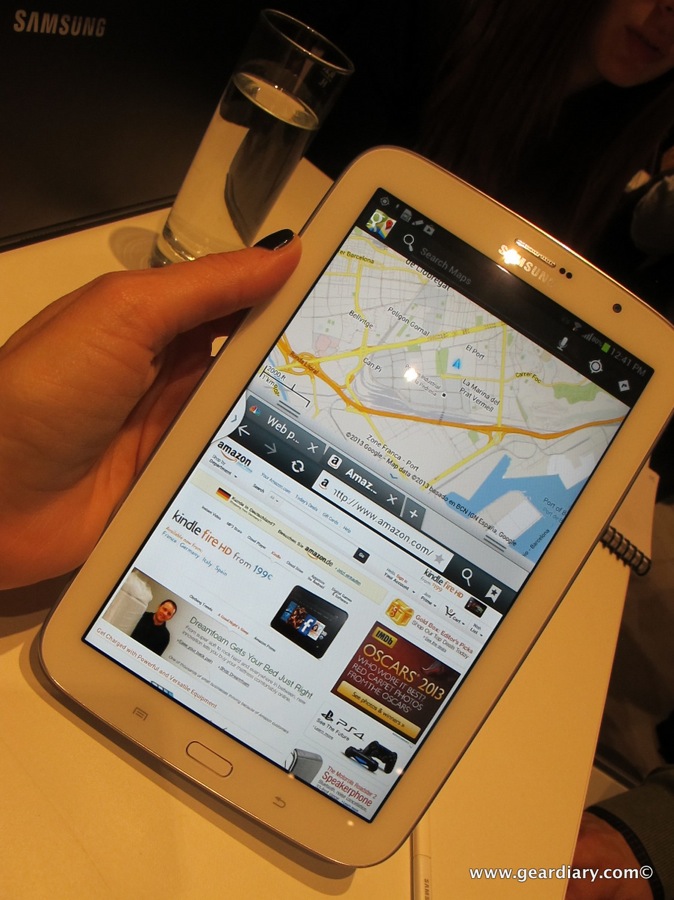 Today was Day Two of Mobile World Congress, and Judie has been busy walking, talking and seeing all the new wares being rolled out in Barcelona. Along the way she got some hands-on time with the Samsung GALAXY Note 8.0.
We brought word of the Samsung GALAXY Note 8.0 the other day, and it looks rather compelling. It offers a 1280 by 800 pixel resolution, runs on a Squad-core Samsung Exynos processor and has a full 2GB of RAM. The device will come in 16GB and 32GB variants but both will offer expansion via a microSD slot. A 5MP camera is on the back, and a front-facing 1.2MP camera is on the front. And while it is a bit bigger and heavier than the iPad mini, the Samsung GALAXY Note 8.0 offers the productivity of an S Pen and a split-screen that lets specific apps run on two different halves of the screen.
[youtube=http://www.youtube.com/watch?v=idGTfLNHH64]
Having spent time with the Samsung GALAXY Note 2, I have to admit that I am quite interested in picking up one of its larger siblings when the Samsung GALAXY Note 8.0 is released this spring. Check out Judie's pictures below; you can read about the entire GALAXY Note lineup here.