When I was in college, I had a roommate that worked at a golf course, so naturally we played a lot. Between student specials and free golf after he got off work, I played around three or four rounds of golf a week. Playing golf is often a great method to keep your frustration and anger levels down. There are so many skills needed for a variety of situations, and most players spend their entire lives chasing the perfect round. For young players, hitting off the tee is about all they work on. You have to impress everyone with that monster drive, right? As golfers mature, they realize the short game is what makes or breaks a round. "You drive for show and putt for the dough." Most mistakes players make are right around the green which add needless strokes to an otherwise great hole. The Perfect Pitch Golf Mat promises to help players set up perfectly for those short pitch shots that can be the difference between a gimme par putt or a long bogey putt.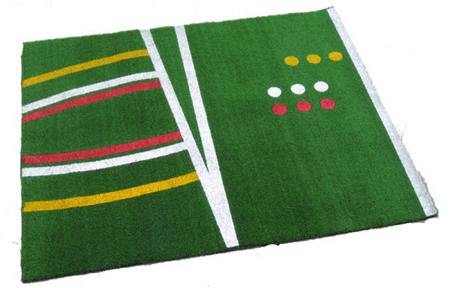 The Perfect Pitch Golf Mat is lightweight and fully portable. It is easy to take to the driving range, back yard or even use inside. Please do not let your mother or wife know you are using it indoors! The mat is easy to use and understand; color coded foot alignments and ball positions will assist users in hitting the perfect pitch, lob and bunker shots. Foot alignment and ball placement in the stance are key to a successful short game, and the mat provides a method to practice each shot perfectly every swing. Watch the video on their website to see how the product works and go to the Indiegogo page to see how you can contribute and get your own.
Perfect Pitch Golf Mat
Want More? Follow Us Here!