The Timbuk2 Aviator Travel Backpack is a serious backpack for people on the go. It has an MSRP of $179, and it is made with the fit, finish and design Timbuk2 is known for. This isn't a travel backpack for someone looking for a simple casual bag, but rather it's for someone who is planning on doing some serious trekking around the world — someone who needs a great and flexible way to both carry and protect their gear. Let's take a look.
The Timbuk2 Aviator Travel Backpack takes two different forms — a backpack and a carryon — and converts from one into the other in a matter of seconds. More on that in a bit.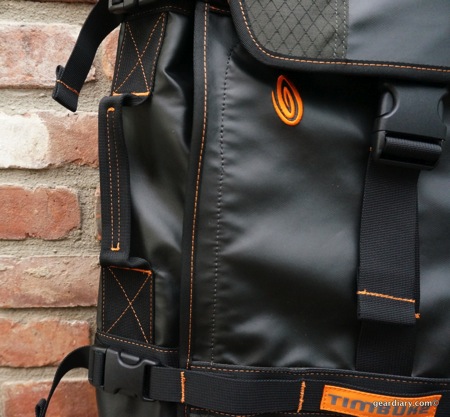 Handles on the top and side of the Timbuk2 Aviator Travel Backpack let you carry the bag as you would any carry-on, in either landscape or portrait depending upon how much gear you have and which orientation is most comfortable for you.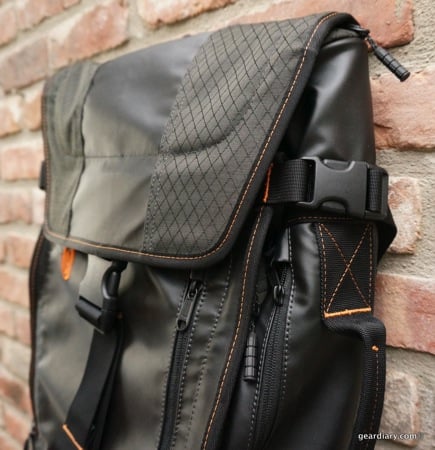 The bag has three external zip pockets. One is along the top of the bag, a second is on the exterior rear panel of the back and a third is a long one of the sides. Each is perfect for your smartphone, passport and wallet, as well as assorted other gear you'll want to quickly access when you're on the go.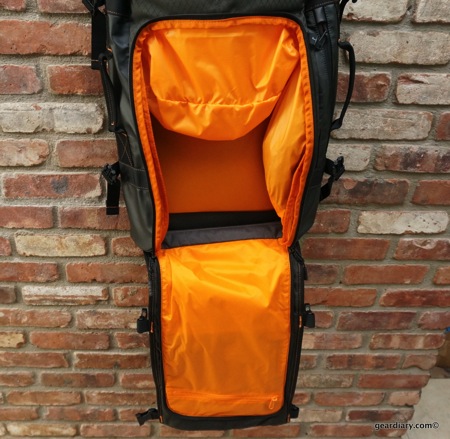 The interior space offers a storage volume of 28.5 L. It is plenty of room for all of your gear, and there is even a pocket to safely protect up to a 17″ laptop.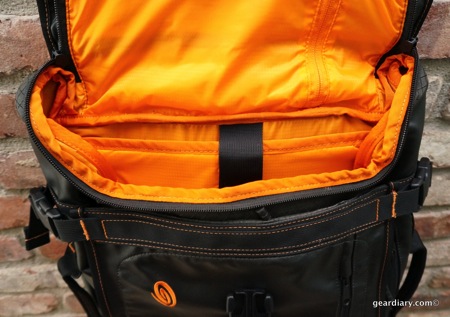 A nice feature in the Timbuk2 Aviator Travel Backpack is the storage compartment at the top of the bag. You can opt to not use it at all and take advantage of the entire interior of the pack or you can use it to separate out, or as the company states "quarantine", shoes, toiletries or wet or dirty clothing so it doesn't come into contact with the rest of the contents in the backpack.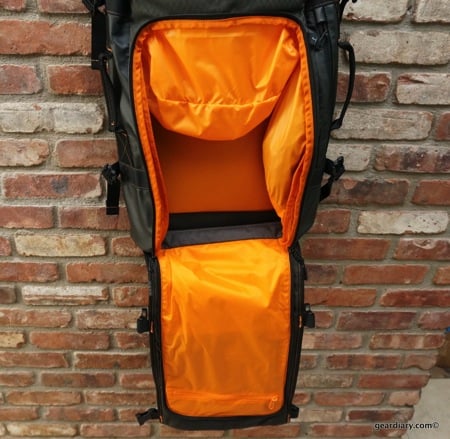 This flexibility between using the entire interior or having to separate spaces is pretty impressive, and it is just one of the many features that make this backpack great for someone taking an around the world trip.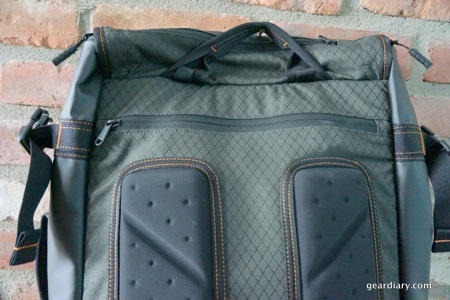 As mentioned, this is really two bags in one. It can function as a carry-on suitcase with handles on both the top and the side. That means you can carry your gear in either orientation — whichever is most comfortable for you.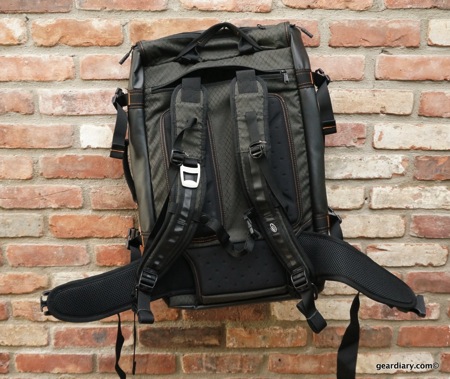 The bag is also a backpack however, and it has an awesome design in that the backpack straps are hidden away until you need to use them. Years ago I had a number of different bags that had hidden backpack straps. In each of those cases the backpack straps were afterthoughts that were added on to standard carried bags. They weren't comfortable, and they didn't allow you to spread the weight of the bag's contents the way a good backpack will. That is anything but the case with the Timbuk2 Aviator Travel Backpack.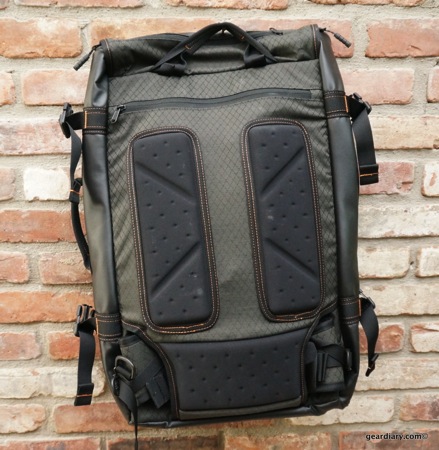 Yes, the shoulder and waist straps tuck away and are hidden out of sight when you aren't using them, but they are serious straps that have the same quality build and design as the company's dedicated backpacks.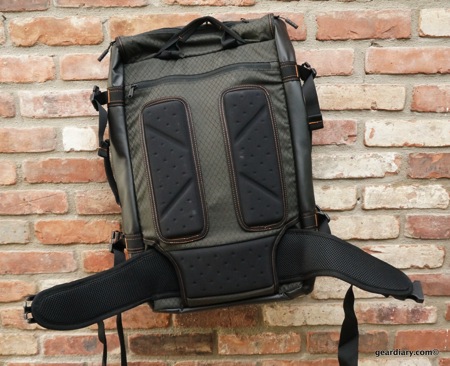 The waist strap is hidden in a compartment at the bottom of the pack. It offers a wide padded strap that can securely lock around your waist. There's no compromising here at all.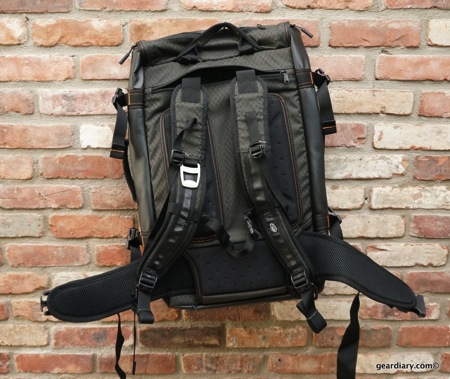 The backpack straps take a few seconds to put together. That's because the company didn't want to simply have them attach in one spot on the back but wanted to actually have additional steps that you put into hidden attachment points just below the top grab handle.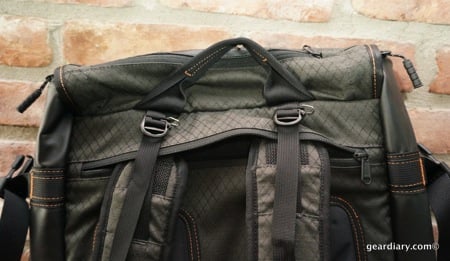 These attachment points helped spread the weight even further, so there is no single spot on the bag that is taking the full burden of its weight.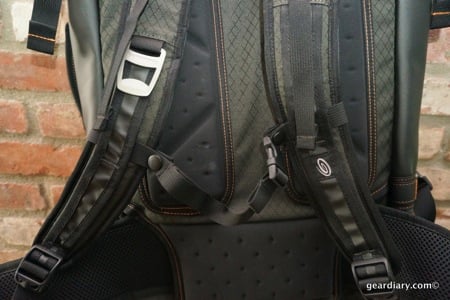 There is even a bottle opener and an adjustable chest strap, so you can get even more comfort when carrying heavy loads.
This isn't a small backpack. That's a good thing considering the fact that it's meant for significant travel, and it's designed to safely hold a laptop of up to 17 inches. Its 14.2 inches wide, 20.1 inches high, and it is 5.9 inches deep; it comes in at 4.4 pounds when empty.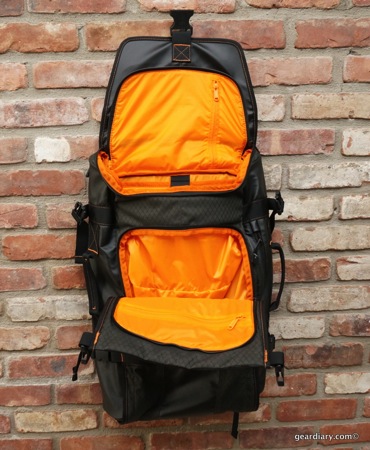 The 5.9 inches in depth is actually a bit misleading, because there are four cinch straps along the side. Once the pack is loaded, you can grab each of these straps and compress the pack so it is not only thinner but also holds the contents in place. It's yet another nice little touch Timbuk2 included with the Aviator.
Finally, in the side pocket of the Timbuk2 Aviator Travel Backpack there is a "rain fly". This raincoat is specifically designed for the aviator backpack, and it helps keep the contents of the pack dry even when the weather is lousy. It's just one more way that Timbuk2 makes it clear that this is a backpack designed for travelers.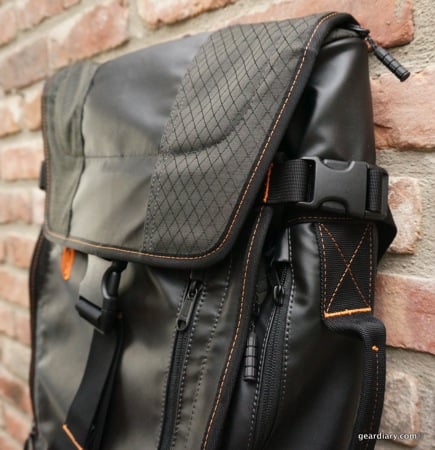 In all, the Timbuk2 Aviator Travel Backpack is an impressive way to carry your gear. It serves double duty as both a carry-on and a backpack, and it doesn't compromise with regard to either of them. My only small complaint is that I wish the separate compartment at the top could be opened and laid flat, so that you have complete top-down access of the contents. Since it does not, the only way to access the items in the main body of the pack is to open the rear panel and that takes a few steps. You can learn more and order yours here.
MSRP: $179
What I Like: Amazing build quality; Strong straps, pulls and buckles; Three zippered pockets; Plenty of interior space; Can be used as a carry-on or a backpack; Timbuk2 lifetime warranty
What Needs Improvement: I wish the divider inside could be opened and/or removed
Source: Manufacturer supplied review sample
Want More? Follow Us Here!