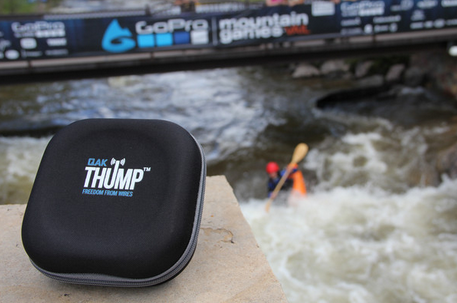 Speakers, watches, headphones … my phone seems to keep losing wires, yet it continues to communicate with more devices. Being free from wires is an awesome feeling. It's like getting shackles taken off, and being able to roam about freely. I recently had the opportunity to test out the $99 Thump Case Pack and go wireless; let's take a look.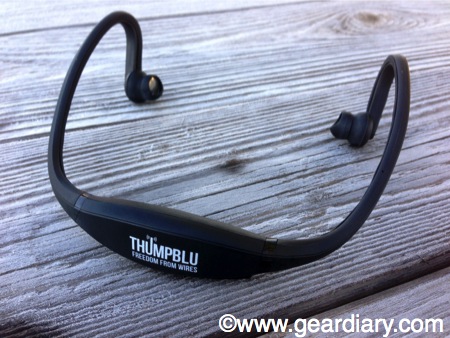 The QAK ThumpBlu are designed to lose the wires and free those wanting to live a more active life from the constant tangle of wires experienced with traditional headphones. With an in-ear style design, the product is a one piece unit that fits either over or under the ear and behind the neck. An internal battery powers the unit, and it is housed behind the neck along with the charging port. Controls are found on each ear with play/pause/forward and back on one ear and phone/volume buttons on the other. The Case Pack comes with the headphones, mini-USB charging cable and hard case.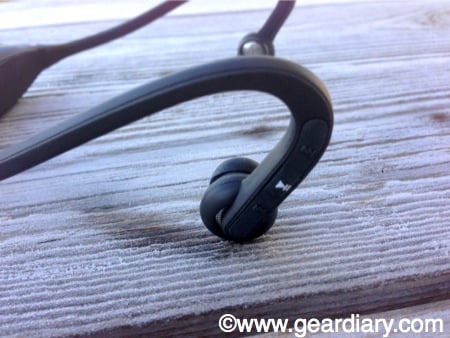 Pairing the ThumpBlu with my iPhone was quick and easy. With the power off, hold down the power button until the blue and red lights alternate blinking. In the bluetooth settings QAK-Thump will appear and pair. From this point, use the headphones as you would any wired pair. It took a few minutes of getting used to the button placement and remembering which bump did what, but once I learned the layout the buttons all worked flawlessly with no latency.
Users can wear the ThumpBlu with the curve going above the ear or below insuring comfort. My personal preference is to wear them above the ears. When worn the other way, they sit too low for my taste and are uncomfortable on the back of my neck. The product is surprisingly light and will not cause any fatigue once a comfortable location is found. The ear pieces fit into the outside of the ear canal and do not go "in-ear" as many of you may be accustomed to. I had to get used to the fit and understand that they are not designed to block all of the outside noise. While exercising or running it is important to have somewhat of a clue what is happening around you. One thing I do not like is that the ThumpBlu is not comfortable to wear while wearing a hoodie; the hood continually causes the neck bar to move around making them uncomfortable.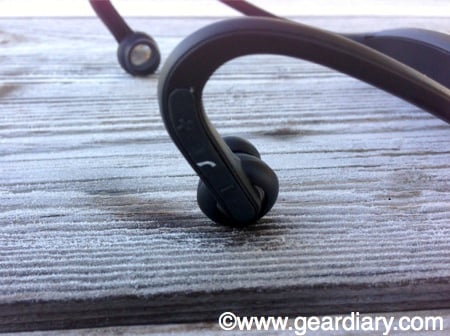 While these headphones are not designed for audiophiles to sit around escaping the world with the best audio, sound is important. The Thump has good balance with highs at a comfortable level with nice mid range and a small amount of bass. You will not be overwhelmed with bass response but the sound is not flat. I found spoken word podcasts to sound really good, and music sounds pretty good. Before getting turned off by audio quality, remember these are designed to be wireless and perform well in an active environment, and they do this along with producing good audio.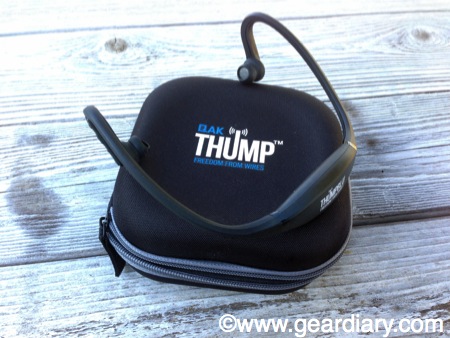 I plan on continuing to wear the Thump while I exercise or work in the yard, as having no wires is wonderful when moving around. Once I found the best placement of the headphones for my comfort, they seemed to just disappear, leaving me with my audio and my workout. Audio quality is balanced and good, and phone calls work well. Now if I can get some long range Bluetooth signal and leave my phone in the house, I would have the perfect solution for any activity. The QAK ThumpBlu are a good choice for anyone who runs, bikes or just likes to be wire free.
QAK ThumpBlu
MSRP: $99
What I like: Wireless audio during exercise and yard work is an awesome thing!
What Needs Improvement: I would like some more bass response and some users may take time getting used to wearing them across the neck
Source: Manufacturer supplied review sample
Want More? Follow Us Here!