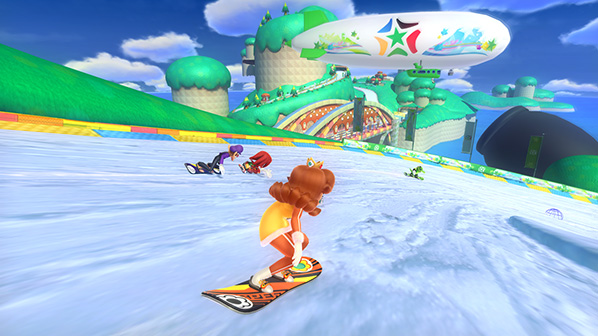 Mario & Sonic at the Sochi 2014 Olympic Winter Games has been out since late 2013 all over the world, but don't feel bad that you are just getting it now. This game has great all ages fun for any time of the year.
Mario & Sonic at the Sochi 2014 Olympic Winter Games helps players warm up their winter with Olympic fever! SEGA Sports Japan teamed up with Nintendo for this only video game version of the Sochi 2014 Olympic Winter Games, which is available exclusively on physical disc or download through the Nintendo eShop on the Nintendo Wii U console with or without a Remote Plus controller.
The Hype
Join your favorite characters, from Mario and Sonic to Princess Peach and Amy, as they team up and compete in the most exciting sports events at the Sochi 2014 Olympic Winter Games. Compete in 24 thrilling events including bobsleigh, skiing, figure skating pairs, and even snowboard slopestyle, which will make its Olympic debut in Sochi, Russia!
Feel closer to the action than ever before with the first entry in the Mario & Sonic series to utilize the Wii U GamePad and Wii Remote Plus controllers. In Biathlon, a cross-country skiing/shooting hybrid, you'll even use both as you switch controllers on-the-fly to earn the coveted Gold Medal. In addition, take on Snow Day Street Hockey, Rollercoaster Bobsleigh, and more supercharged Dream Events that combine familiar sports with outrageous settings, rule sets, and extreme action! And for the first time, head online* for global competition to help earn top scores for your home country! Let the games begin!
*Wireless broadband Internet access required for online play.
The Reality
Mario & Sonic at the Sochi 2014 Olympic Winter Games has fun, familiar characters, varied events, and enjoyable controller functionality in a comprehensive international sports showcase exclusively on the Nintendo Wii U – the previous Vancouver 2010 Olympic game released on the Nintendo Wii and DS. This game features the familiar characters from the Nintendo and SEGA franchises and incorporates actual settings in the host city, Sochi, Russia.
Mario and Luigi are well-rounded players while Sonic and Shadow obviously has the speed advantage. Each character contains unique movements and stats. Luigi, Tails, Princess Peach, and Amy are some of the 20 characters. One of the best innovations was getting to see my Mii (selectable at the bottom right of the character menu), in full body graphics, alive and kicking in events!
Players get 16 Olympic events in this cross over sports/party video game that features an online multiplayer mode for the first time in the game series with new events figure skating pairs and snowboard slopestyle.
The bobsled and skeleton put players right into the high-speed shoot while multitasking challenges abound in the more open environment skiing and biathlon (with over exaggerated gun kickback) along with the speed skating and figure skating events. Developers make speed skaters depend on rhythm not repetition. The bobsled follow strip (three across then one) follows the sport closer, but it would have been more entertain to pick up coins or rings instead.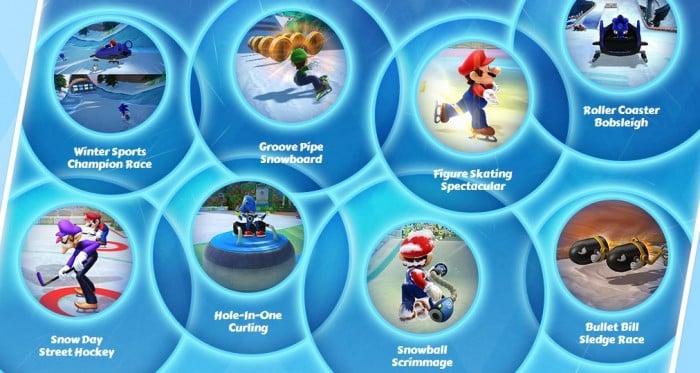 The eight fictional Dream Events adds more variety and creativity for some expanded escapism that definitely retains a high competition levels.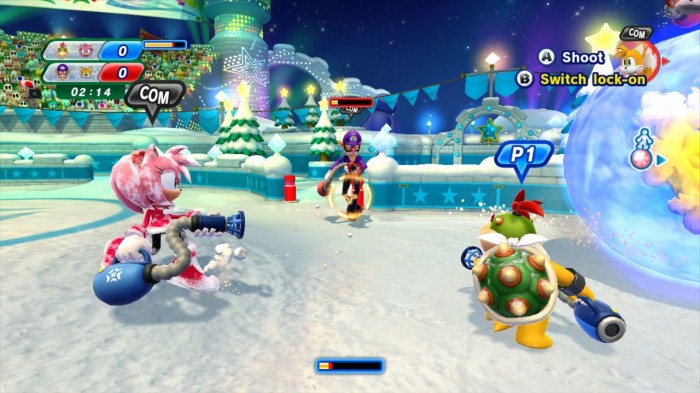 The Snowball Scrimmage is a special favorite that could easily expand into its own game. The single-player Legends Showdown offers tournament-style competition while the returning Medley modes for group friendly competition.
The GamePad debuts in this game series as a steering mechanism, biathlon rifle controller, first-person bobsleigh view, and even a unique television coverage hub, where players can get a charming second screen experience, but not any option to play the events on a second screen. Players see exclusive commentary on the GamePad that also includes actual player tips from the Miiverse (go to options to adjust visibility of these tips). The GamePad camera can also be used to take a selfie picture to share.
These solid video game archetypes provide a great physical workout with a fun variety of familiar events. The MotionPlus controller use is most notably showcased in the figure skating events for balance, jumps, and movements where players use it like a music conductor baton. The nunchuk helps control, but is usually not required. No balance board use here, which really missed the option for a different experience, especially since so many events could use it.Players can really get their arms pumping using the Wii Remote or Remote and Nunchuk as they go for the gold, silver or bronze.
Thankfully, the low stress Wii controls take the button mashing fatigue that has plagued mediocre Olympic themed games for years. Players can get advantages from a few button mashing techniques like repeating the B button when on the running blocks before your release.As players improve on each action, game producers predictably award them with various bonuses, but you get so much pure joy and satisfaction in playing that the bonuses seem like icing on the cake. The statistics are deep and the crowd noise pumps up players.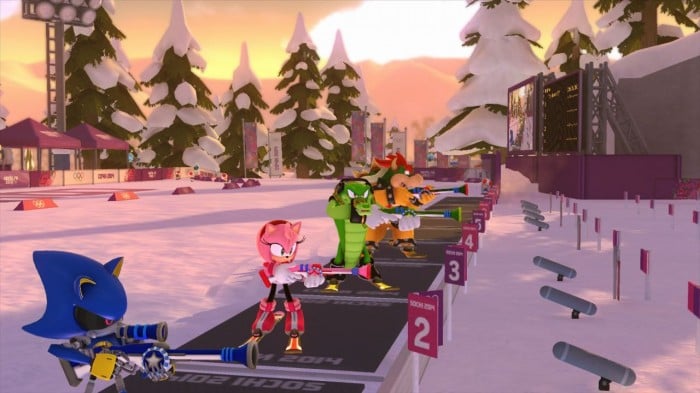 The installment also marks the sharp HD graphics for the first time in the game series while the audio, sound cues, dialogue and music themes carry over from previous installments. Game makers accurately capture the Olympic experience with colorful designs, crowd noise, and character reaction.Players can practice an event or view the tutorial before competing in the event.
Want to display your efforts? Register in the world rankings to put your results in the online leaderboards, which allow new world records (obviously the biggest aspect of the Olympics) to take the competition to a higher level.The most memorable announcers are robots…really. A new addition to this game is the Action & Answer Tour hosted by Orbot and Cubot from Sonic Colors.
Players of all ages can succeed in several events, which promotes the fun, party-like multiplayer gameplay. Players will have fun watching the other players too.Separate saved profiles and handicap settings help even more. Producers also stress the joy of winning with instant replays (at slower speeds) and the standard award ceremony though anything fourth place and below gives characters the blues, which passes on to the players. Players can always try again immediately after the event/mission as menu immediately appears and allows you to repeat event/mission, change character or change event/mission.
A mildly entertaining, but well varied, authentic worldwide sports title. A great physical workout with a fun variety of familiar events. Plenty of room to expand the online capabilities in future installments. Unfortunately a Nintendo 3DS version is currently available.
Mario & Sonic at the Sochi 2014 Olympic Winter Games
MSRP: $49.99 (Best Buy, Amazon and other stores)
What I Like: great variety, large character cache, GamePad functions, Mii character incorporation, appealing visuals, HD graphic improvements, online/cooperative gameplay
What Needs Improvement: lengthy tutorials, familiar elements from previous installment, no balance board options/use, no handheld console version
Source: Personal copy
Want More? Follow Us Here!