If you are a fan of Element Case, you know their products are always impressive. And if you are into motorcycles, you likely know about the partnership between Element Case and Ducati. The two companies have been co-branding some amazing cases. The Element Case Ducati Soft-Tec Folio for Apple iPad Air is a great example of what they have created.The folio-style case features the soft-tec material Element Case has used on other offerings. It is a synthetic material but it looks and feels fantastic and offers just enough grip that you will feel confident while holding the case. There is, after all, a reason they refer to the outer material as Tech-Grip and note that it features a non-slip synthetic coating that offers a "firm grip and enhanced ergonomics".
And while the exterior is designed to stand up to the rigors of the real world, the interior is lined with synthetic suede that treats your precious iPad air with case. The black of the exterior and the red of the interior come together to create a case that is both simple AND striking.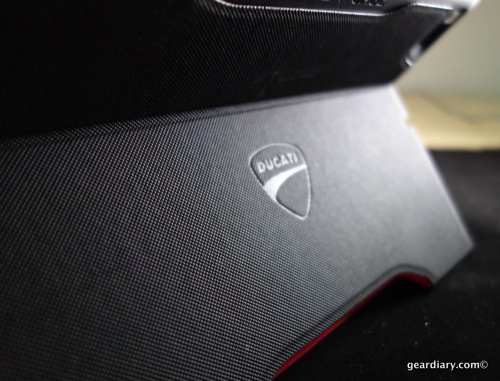 The iPad is held in place by a polycarbonate shell into which it snaps. I had a Bodyguardz protective skin on my iPad, which prevented the tablet from seating perfectly in the shall. That is not a knock on the case but, instead, speaks to the tight tolerances of the shell and means it will securely hold you iPad Air once the tablet is properly seated inside.
And while the iPad is nicely protected by the Element Case Ducati Soft-Tec Folio, the design of the case offers the added benefit of doubling as a landscape or portrait stand. It is a great feature, and I love the fact that the stand functionality doesn't add to the weight or thickness of the case.
Element Case Ducati Soft-Tec Folio Video Review
As I have previously noted, I'm not a huge fan of branding on cases. Still, there is enough cache to both Element Case and Ducati that it really doesn't bother me here. In fact, I kinda like it!
Case Features include:
Slim, lightweight design
Durable Tech-Grip covering
Plush synthetic suede interior
Integrated stand for adjustable viewing angle
Easy access to buttons and jacks
Designed in California
The Element Case Ducati Soft-Tec Folio is a seemingly simple case that isn't so simple. The co-branding makes it stand out, and it reflects the biking origins of Element Case. The Tech-Grip material protects the iPad and enhances your grip. And the built-in stand does it exactly what a folio case stand needs to do. And while some may see the $79.95 price tag as a bit high, since this is Element Case you can be sure you are getting a quality product. You can
learn more
about the Element Case Ducati Soft-Tec Folio here. You can get it here through our
Amazon Affiliate Store
.
MSRP: $79.95
What I Like: Great design and quality materials; Tech-grip material is comfortable and "grippy"; Doubles as a stand; Cool branding
What Needs Improvement: Double-branded which some may not like; Pricey
Source: Manufacturer supplied review sample of the Element Case Ducati Soft-Tec Folio
Want More? Follow Us Here!