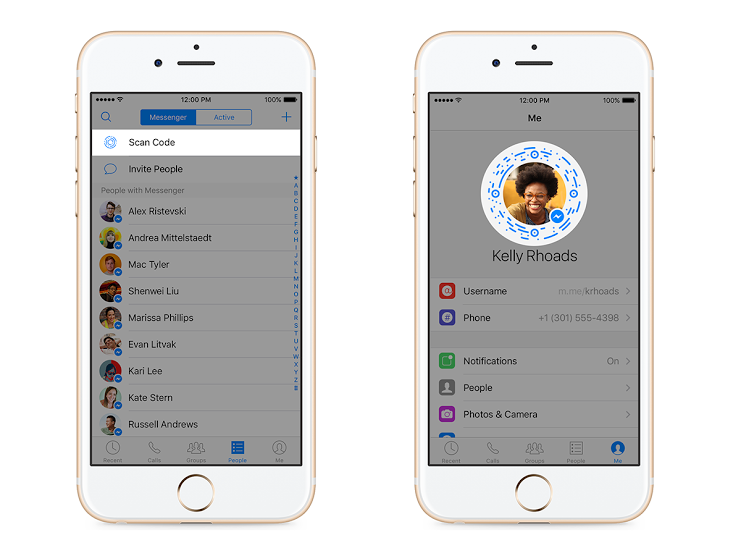 If you use Snapchat, you're probably familiar with the scannable yellow code that lets you quickly connect with another user. According to a Facebook post, a similar code is making its way to Facebook Messenger.
In a bid to make it even easier to connect on Facebook Messenger you'll soon be able to also create a short link – similar to m.me/wayneschulz which you can then share in email or online with others to ensure that they're connecting with the right person via Facebook Messenger.
Businesses will receive this feature too, which will let them post short links on their website and within advertisements. Facebook claims over 900,000,000 Messenger users, which makes it an almost universal way for people to message without having to give out their phone numbers.
Via Facebook:
"At Messenger, we always aim to make life simpler, fun and more delightful. Starting today we are taking another step forward in delivering a new solution to the more than 900 million people who use Messenger every month. Phone numbers aren't necessary, and you don't have to be friends on Facebook.
Since traditional phone books are almost obsolete, we're making it easier for you to find the people (and businesses) that matter to you and be able to start conversations immediately with the launch of a simple set of tools that are built for the modern world – Messenger Codes, Messenger Usernames, and Messenger Links. We're starting to roll these tools out today."

"Here's how they work: Messenger Codes are the best way to find people in Messenger, whether you're standing side-by-side or looking at your computer screen. No matter where you are – online or at an event – all you have to do is scan a code someone shares with you, and then you can start that important conversation. No more back and forth with texts trying to make sure you have the right number saved and awkwardly asking people how to spell their names. Your settings tab in Messenger has your own Messenger Code displayed prominently to scan or share. We also took special care to make Messenger Codes as beautifully designed as possible so you can use them everywhere – on business cards, online, or in-store and anywhere else you like."

"Messenger Links and Usernames are your very own personalized links that you can share anywhere online – from your email signature to a website – so people can reach you quickly on Messenger. You can send your Messenger Link directly to your contacts or friends. Tap or click any Messenger Link to open Messenger directly to a thread with that person or business. We are all unique human beings but sometimes we share the same name! This can make it hard to know you are contacting the right person when searching for them in Messenger. Now, it's simple to find someone by their very own unique username. You can find and share your username from your Settings tab."
Facebook Messenger: Say Hello to Messenger Codes
Want More? Follow Us Here!