Did you get an email from Amazon telling you that you have credit from the Apple eBook Antitrust Settlement? I just got mine, and it was a doozy …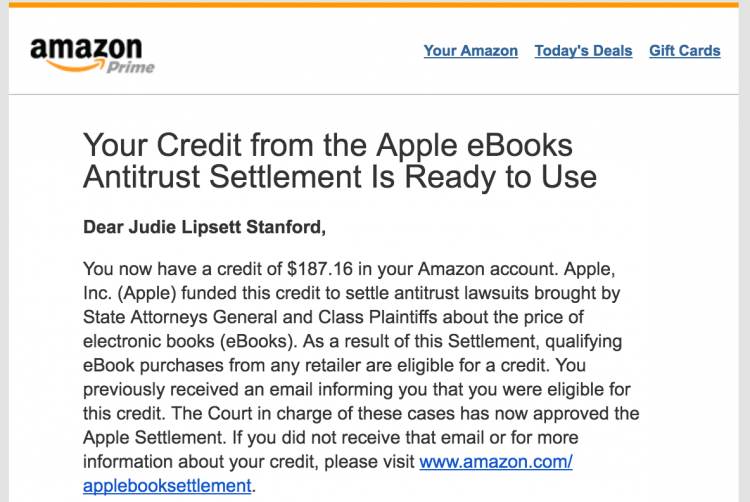 The letter reads in full:
Your Credit from the Apple eBooks Antitrust Settlement Is Ready to Use

Dear Judie Lipsett Stanford,

You now have a credit of $187.16 in your Amazon account. Apple, Inc. (Apple) funded this credit to settle antitrust lawsuits brought by State Attorneys General and Class Plaintiffs about the price of electronic books (eBooks). As a result of this Settlement, qualifying eBook purchases from any retailer are eligible for a credit. You previously received an email informing you that you were eligible for this credit. The Court in charge of these cases has now approved the Apple Settlement. If you did not receive that email or for more information about your credit, please visit www.amazon.com/applebooksettlement.

You don't have to do anything to claim your credit, we have already added it to your Amazon account. We will automatically apply your available credit to your purchase of qualifying items through Amazon, an Amazon device or an Amazon app. The credit applied to your purchase will appear as a gift card in your order summary and in your account history. In order to spend your credit, please visit the Kindle bookstore or Amazon. If your account does not reflect this credit, please contact Amazon customer service.

Your credit is valid for one year and will expire after June 24, 2017, by order of the Court. If you have not used it, we will remind you of your credit before it expires.

Thank you for being a Kindle customer.

The Amazon Kindle Team
If you had forgotten, "a federal court approved a Settlement of antitrust lawsuits brought against Apple, Inc. ("Apple") by State Attorneys General and Class Plaintiffs about the price of electronic books ("eBooks"). Those settlements resulted in credits for qualifying Kindle books purchased between April 1, 2010 and May 21, 2012. These credits are funded by Apple."
Obviously, I read a lot, and that's why I got such a chunk of change back; I suppose I'll likely use my new bounty to fund more Kindle books! Thanks, Apple! 😉
Want More? Follow Us Here!